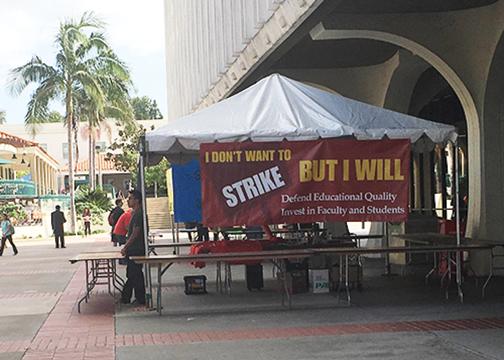 A nearly unanimous vote by the California Faculty Association determined Wednesday that California State University faculty will organize a strike in spring if its demands for a salary boost are not met.
The CFA has asked the CSU Chancellor's office for a 5 percent increase in salaries for the upcoming year and an additional 2.65 percent salary hike for faculty on the lower end of the pay scale, but CSU administration has refused.
Instead of giving CFA what they requested, CSU management offered them a 2 percent across-the-board pay increase.
The CFA, unsatisfied with this offer, decided to hold a faculty vote across all CSU campuses on whether or not faculty will strike. The results came after a 10-day voting period, which began on Oct. 19.
"The CSU is a public institution and should start acting like one by paying its employees like the professionals that they are, protecting students from debt and serving the state of California by providing the highest quality of education possible," CFA President Jennifer Eagan said at the press conference announcing the result of the vote.
Executive Officer of the South Bay Labor Council Ben Field spoke in support of CSU faculty at the press conference.
"When the majority of CSU teachers are paid $38,000 or less, that is just a travesty," he said. "That wage equates with less than the living wage in Santa Clara County. That's some indication of how badly paid CSU teachers are, and it's wrong."
Next, the CFA will hold a demonstration at the Chancellor's Office on Nov. 17.
The CFA is not legally authorized to strike until after fact-finding hearings are held. At these hearings, a neutral third party will recommend a settlement between the CFA and the CSU.
Two fact-finding hearings are currently scheduled for Nov. 23 and Dec. 7.
CSU Chancellor Timothy White issued a statement in response to Wednesday morning's vote.
"The CSU remains committed to the collective bargaining process and reaching a negotiated agreement with the California Faculty Association (CFA)," White said.
San Diego State Media Relations Manager Beth Chee referred all of The Daily Aztec's questions to the CSU, which provided a statement and declined an interview request. The university did not say whether or not a strike could potentially cancel classes.
The Daily Aztec will continue to update this story as it develops.