West Virginia dismantles SDSU 72-50 with press defense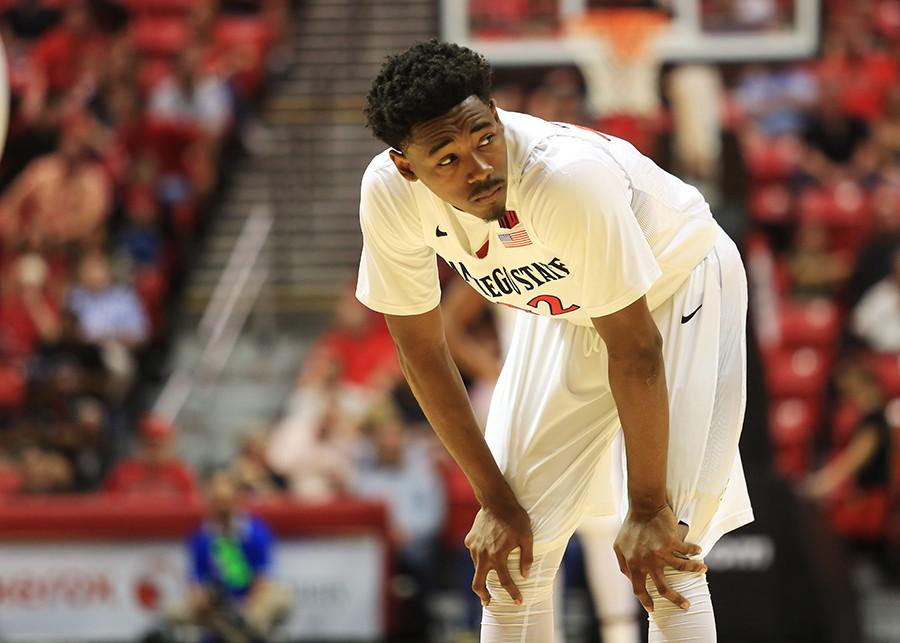 by Patrick Carr, Sports Editor
November 27, 2015
As the games go on and head coach Steve Fisher learns more about his team, it's his team's inconsistency that causes so much confusion.
For other teams and for everyone else watching it.
Less than 24 hours after mounting an improbable 15-point, second-half comeback against No. 14 UC Berkeley, San Diego State men's basketball was blasted by a far superior West Virginia University and its suffocating press defense in a 72-50 blowout loss in the championship game of the Las Vegas Invitational.
It's the latest drop what's been a roller-coaster season for SDSU so far.
It wasn't that close, either.
The press was the source of SDSU's problems, but it didn't help that the Aztecs didn't make a single jump shot. Not one. Zero.
All of its points came from the free-throw line or layups. Granted, if the Aztecs didn't shoot so well at the line, they would've been run out of the arena in the first half.
And just like Thursday night, SDSU again found itself fortunate to be down by only single digits at the break. The Aztecs only trailed 34-26 despite turning the ball over an incredible 14 times (for some perspective, SDSU had 10 the entire game against Cal) and shooting 5-of-16 from the floor.
The only reason the Aztecs were in this game at all was because of their sudden free-throw virtuosity, going 16-for-20 from the line in the first half thanks to 13 WVU fouls, and finishing 24-for-32 overall.
Against Cal, they went 22-of-28 from the line, a combined 46-for-60 (76.7 percent), much higher than the 66.4 percent SDSU was shooting coming into the tournament.
The Mountaineers cashed in off the 21 SDSU turnovers and the Aztecs' overall inability to inbound the ball, and did just enough to make the game seem completely one-sided.
Rebounding is usually a strength for SDSU. So is offensive rebounding. WVU took those strengths and cast them aside as the Mountaineers out-rebounded the Aztecs 42-28 and 14-3 on the offensive glass, resulting in 13 second-chance points for WVU.
Anyone expecting a repeat of the win over Cal was sorely disappointed because if the first half was a struggle for SDSU, the second was quite possibly worse. The Aztecs did nothing different to combat WVU's press defense, which was as good as, if not better than, advertised.
Notes
Freshman point guard Jeremy Hemsley led the way scoring-wise for SDSU with 14 points to go with four rebounds. He's scored 10-plus points in all but one of his seven games.
SDSU used the same starting lineup as it did against Cal and East Carolina University, but Fisher quickly yanked the starters in favor of his seniors on the bench (forward Winston Shepard and center Skylar Spencer).