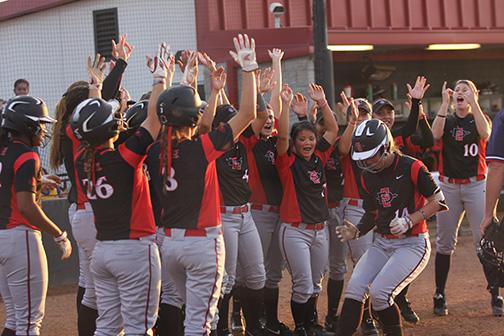 San Diego State softball has earned a trip to the NCAA Division I Softball Championship for eight consecutive seasons and 11 times in the last 15 years. In her 19th season leading the team, head coach Kathy Van Wyk believes this will be another strong season for the Aztecs, despite a few challenges.
A younger team
After losing seven seniors, the team remains positive about the upcoming season. Van Wyk thinks the biggest challenge is going to be in the outfield.
"Our outfield is all brand new and that's the biggest factor," she said. "Not to mention the offense. We lost two .400 hitters and about 40 home runs. It's a lot to replace so we need people to step up. We have the people to do it, it just might take some time."
Van Wyk has faith in her young team, though it may take time to get in the swing of things.
"We lost seven seniors and regardless of how much playing time those people had, that's a very mature group of individuals to lose all at once," she said. "At the same time, I think we've got a tremendous amount of talent. In some ways, we shouldn't miss a beat, but we will."
Despite the struggles that come with a younger team, last year's No. 1 pitcher, junior Erica Romero, looks forward to starting the season with some new faces.
"I'm excited every season, but this season especially because we have so many new girls," she said. "I'm excited to see what we can do and how far we can go."
The team has seven freshmen this season and just three seniors.
However, age seems to mean little to sophomore catcher Jenavee Peres.
"We're like a family," she said. "I mean, we argue and get in fights, but that's just how every team is. It happens. I think it just brings us all closer. We're all cookoo so it's good."
The positive team chemistry that is already brewing with the Aztecs will be a strong factor in making the upcoming season a successful one.
Conference rival
Last season the Fresno State Bulldogs seized the Mountain West championship and also earned their spot in the 2015 NCAA tournament for the first time in school history.
This makes Fresno State the conference team to beat this season for SDSU.
However, there are many other big-name schools the Aztecs will have to face early on in the season, including Texas A&M University, Stanford University, UC Berkeley and Oklahoma State.
Van Wyk recognizes how crucial it is to beat Fresno State and its six-time MW Pitcher of the Week, senior Jill Compton.
"It's always fun to play the big-name schools, but in conference it's going to be Fresno," Van Wyk said. "We've got to beat them and Jill Compton. If we can get by them, I think we will win our share of games against the other teams so we can maintain and win another conference championship."
SDSU will face its first big-name team when it hosts University of Kentucky on Feb. 18 in the home opener. Later in the season, the Aztecs will take on the Bulldogs April 1-3 in Fresno.
Dynamic duo
One of the best things the Aztecs have going for them this season is the pitcher-catcher duo of Romero and Peres. After appearing in 56 of the team's 58 games last season and leading the country in wins (36), Romero is ready to settle into her role as a team leader.
"I think I've grown a lot, leadership-wise and pitching-wise," she said. "Overall, I'm more outspoken. My voice has gotten louder and my pitching has gotten stronger."
The bond between Romero and Peres is crucial to the team chemistry on the field. As a freshman, Peres was calling all the pitches in games with guidance from Van Wyk coming only between innings. This makes a difference in how both Romero and Peres perform on the field.
"I think Erica loves it," Van Wyk said. "She wouldn't have made it through last season had it not been for the fact that Jenavee was back there and brought her that much more confidence. It's not so much that I think Jenavee calls a perfect game, but she calls it with confidence and it makes you believe this is the right pitch and it's the right thing to do. And so Erica believes that too."
For Peres, it's about making sure Romero is at her best.
"It's about just knowing her strengths and pitching to her strengths instead of to other teams' weaknesses," Peres said. "We're really close because I keep her on her game and she keeps me in check too."
The confidence between these two players spills over to the rest of the team and makes a difference in chemistry on the field. Van Wyk recognizes this as one of the team's greatest strengths.
"I am 100-percent positive everybody on that field feels it," she said. "If Erica shows that she's feeling good, everybody feels good. If she doesn't, everyone feels that as well. It's a big burden and I think Jenavee takes a lot of that burden off of her."
SDSU will start the season on the road Feb. 12 against Canisius College.