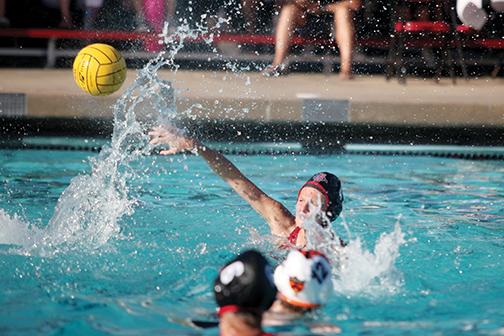 San Diego State's water polo team enters the 2016 season ranked No. 16 in the Collegiate Water Polo Association's preseason poll. It also has four returning All-Americans under head coach Carin Crawford, who has coached the team for 18 years.
The Aztecs play a schedule that will not only challenge them, but also test them physically and emotionally.
"We put together a schedule to test ourselves against the best competition that we could schedule," Crawford said. "So to me, those are the games I'm really looking forward to as a way to gauge ourselves against the best competition and to get the experience of playing up."
The four returning All-Americans are senior goalkeeper Rachel Mitchell, junior utility player Caroline Israels, junior defender Ioli Benekou and junior center Alyssa Diacono.
Mitchell, one of five seniors on the team, has recorded 927 saves, good for second all-time in SDSU history. She said the hardest part about competing at this high of a level is staying focused.
"I think it's more of a mental game," she said.
Chemistry also plays a part for the team and the players say they need to be consistent with putting in hard work.
"We also have to make sure that we're holding each other accountable in order to stay focused during practice," said Israels, who led the team last season with 61 goals.
Diacono, who led the team with a .395 goal percentage, and named to the Golden Coast Conference All-Tournament Team and the GCC All-Academic Team last season, also said playing together for an extended period of time has helped get them to this point.
"There's a big chunk of us that have played together," Diacono said. "This is our third year playing together so we know each other's tendencies and we know how to communicate with one another."
For some players, such as Benekou, who is from Greece, these girls are more than just teammates.
"This is my family right now," Benekou said.
Diacono also shared Benekou's feelings of the solidarity and bond this team has cultivated.
"I think we're more of a family in a way that you don't really choose your family and it's not like we chose to be on the team (with each other)," Diacono said. "Ultimately we love each other, and we do anything for one another, inside the pool or outside the pool."
This family will face tough competition this upcoming season and one game all the girls are looking forward to is the Harper Cup on April 22.
The Harper Cup is the annual match-up with UC San Diego, where SDSU holds an impressive 13-1 record over the Tritons.
"Every year I always look forward to the Harper Cup," Mitchell said. "It's the San Diego rivalry."
SDSU will also play an exhibition game against the Chinese national team at the Aztec Aquaplex on Feb. 6.
"It's going to be a great experience for the girls," said Crawford, who also knows the Chinese team's head coach, Ricardo Azevedo, who is the former head coach at Long Beach State.
Another game Crawford is looking forward to is the game against Cal State Fullerton, who used to be in the same conference as the Aztecs.
"We get to play at Cal (State Fullerton)," Crawford said. "I think that will be a great opportunity. We've always had good competitive rivalry with them."
Crawford knows her team could face Cal State Fullerton again in the NCAA Women's Water Polo Championship in May, so to get an opportunity to see its game before the tournament could be beneficial.
"We're ready," Crawford said. "Not being in the same conference, we're kind of depending on meeting them in the tournament, which you just aren't certain is going to happen. So it's nice to have them on the schedule."
One theme all the girls agree on for the season is challenging each other in the water.
"Most of the teams that we play don't play similar to each other," Mitchell said. "Every team is different. It's a lot of work to keep that up and to challenge ourselves every single game and practice."
Diacono said she gives a lot of credit to the scout team players, who she thinks are put into a more dynamic role because they're expected to play different types of schemes at a high level in practice during the year.
Even though the team has four returning All-Americans, Crawford doesn't want to have to rely on just them.
"I think we're strong at all positions," she said. "We really need to look to the players who aren't All-Americans to make sure that they're ready to make an impact for us and know how important their role is."
The team is also excited to host this year's GCC championship.
"Last two years we've made it to the championship game and came up short, but this year there's a bid on the line," Crawford said. "We're hosting. We're ready to change the course of history."