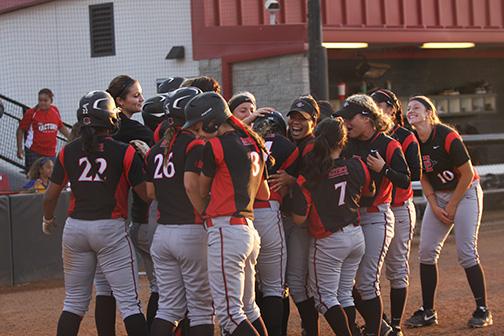 The San Diego State softball team has traditionally played well in season-opening games under head coach Kathy Van Wyk, winning 14 of their last 15 season-openers.
The Aztecs kept the tradition alive Friday at the Titan Classic in Fullerton, winning their first game of a doubleheader on Friday over Canisius College, 14-2, but losing the nightcap to host Cal State Fullerton, 8-4.
SDSU racked up 14 hits and seven walks in its win over Canisius.
It began in the first inning when the Aztecs jumped into a four-run lead with help from a two-run homer by All-American sophomore catcher Jenavee Peres. Junior Erica Romero started on the mound and allowed just two runs on four hits over two innings.
SDSU continued to have high-scoring innings and brought the game to an early finish in the fifth by the run rule.
The Aztecs struggled in the second game against the Titans, though. Fullerton gained a quick lead and never backed off and SDSU was unable to overcome defensive errors.
Van Wyk said she is pleased with how the team performed offensively in the first game, but recognizes the team's greater struggles in the second game against Fullerton.
"We scored like 14 runs or something, so that takes a lot of pressure off of you, defensively," Van Wyk said. "But you could say the same thing for the Fullerton game, but the opposite. They built up a good solid lead. They were hitting (sophomore right-hander Alex Formby) pretty hard. We made some defensive mistakes that cost us some other runs. So that set us up against the eight ball, which wasn't a good way to start."
By the third inning, Fullerton had a 4-0 lead, which was then pushed to a 6-1 lead after an Aztec error in the fourth. Each team recorded seven hits, but the four errors the Aztecs committed throughout the game were costly.
Formby took the loss in her SDSU debut on the mound, allowing four runs on four hits and two walks over three innings, and striking out one. Freshman Julie McDonald also made her Aztec debut, allowing four runs on two hits and two walks over two innings.
Romero came in for one inning to finish the game and allowed one hit.
Despite the errors, Van Wyk feels the first day of game play was productive for the team.
"There was a lot of real good and a lot of real bad," she said. "It was a full day. We got to get past the first-day jitters and add pitchers who haven't thrown and we have hitters who are amped up and excited to be out there on the field."
After losing seven seniors from last year, the team's biggest challenge was building up a strong outfield. Friday proved to be a good day to start experimenting with defensive and offensive rotations in that area.
"We did a lot of different things," Van Wyk said. "We had our defensive outfielders who also run very well and when we could put them in to run, I left them there on defense.
"So that allowed us to use them for a couple innings until that player comes back up in the batting order and we need offense again. I made a lot of those kinds of adjustments and we did a good job getting used to that and how it's going to work for us."
The Aztecs will play three more games over the weekend before hosting its first home game on Feb. 18 against University of Kentucky.