SDSU men's tennis continues 3-game skid with 5-1 loss to Pepperdine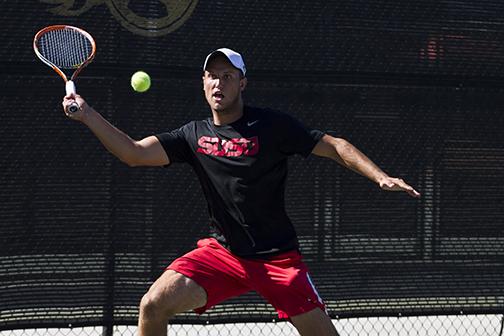 The San Diego State men's tennis team fell to Pepperdine, 5-1, Thursday afternoon at the Aztec Tennis Center.
With three consecutive losses, the Aztecs have dropped to 3-6 on the season.
In doubles play, junior Hendrik Jebens and senior Freddy Gelbrich couldn't pull out a win against freshmen Guilherme Hadlich and Gabriel Sidney, the No. 30 doubles pair in the nation.
The pair dropped the set 7-6 (6).
Junior Marko Goles-Babic and freshman Sander Gjoels-Andersen fell to juniors Tom Hill and Stefan Menichella from the No. 3 spot, 6-3.
"The differences in college tennis are very small," head coach Gene Carswell said. "We literally had match point for the doubles point, which is very, very important. It gives you momentum going into singles and sets you up as you move forward through the match and the competition.
"It was obviously disappointing for us. Though I really thought all of the matches were winnable."
Sophomore Santiago Cevallos and junior Milen Ianakiev did surface as a lone bright spot for SDSU in doubles, as the duo earned their fourth consecutive win this season with a 7-5 victory over sophomores Lautaro Pane and Pedro Iamachikine.
"I think (Ianakiev and Cevallos) are doing a real good job of making their opponents work extra hard, seeing one more ball in points. They're getting back extra volleys," Carswell said. "They're not going out there and serving bombs, as far as just hitting clean aces. They're going out there and getting it done by doing the heavy lifting of making first volleys, making returns and out-competing their opponents."
The Aztecs couldn't ride the little momentum into singles play, though.
Cevallos and freshman Cornelius Kolb struggled out of the gate at the No. 5 and 6 spots, as the two both dropped their matches in just two sets. Cevallos lost 6-2, 6-4 to Hill and Kolb dropped his match 6-3, 6-1 to Iamachikine.
With Jebens and Gelbrich also dropping their matches from the No. 1 and 2 spot, Ianakiev picked up SDSU's only win in singles play. He topped Sydney 6-3, 4-6, 10-7.
Moving forward, SDSU will look to bounce back in the Pacific Coast Doubles Championship this weekend.
Carswell and assistant coach Jeff Thomsen are also expected to lace up this weekend.
"I'm getting a little older, so this might be the last couple go-arounds, but I enjoy playing it," Carswell said. "We get to go out and compete against the college guys and usually we knock out some college teams. We try to show the guys that there is a reason why we tell you to do the things we tell you do."