Student Research Symposium highlights interdisciplinary projects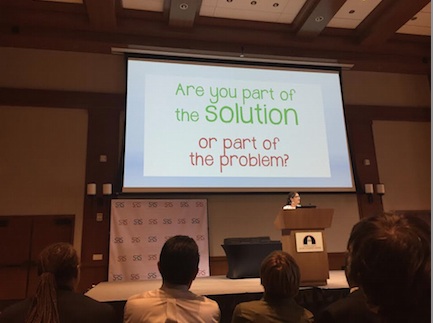 San Diego State students and faculty filled Montezuma Hall on Friday and Saturday to hear original research from more than 550 students at the Ninth Annual Student Research Symposium held by the Division of Research Affairs. 
Student research posterboards were lined up in Montezuma Hall while researchers prepared their presentations for symposium judges during the two-day event. Oral presentations were held in various rooms of the Conrad Prebys Aztec Student Union.
The event was open to the public. 
"Last year we had 475 participants so every year we've been jumping," said Ashley Rubio, administrative support coordinator for the Division of Research Affairs and coordinator of the SRS. "We have a lot of people coming in from outside that aren't part of the symposium coming in and looking around."
A wide range of research topics, including "Ecology and Evolutionary Biology," "Binge Eating and Juvenile Health" and "Students, Identity, and Behavior," were presented by students in various disciplines throughout the weekend. 
"It's a mixture of different fields that students are interested in," Rubio said. "This morning we had an arts exhibit with four students presenting artwork. I had a few painters come in and present their art work as well." 
Psychology junior Jessica Cerda and psychology senior Myra Hills presented their psychology research on food-ordering behaviors and factors of success in black teen mothers as part of Friday's posterboard session. 
"It was a lot of hard work," Cerda said of her project, "Child and Parents Reports of Food Ordering Behaviors — Is There a Difference?"
"I think it pays off to know that your research is being observed by so many people and they're interested in what you did and what you found."
Cerda added: "We were interested in seeing what child respondents were reporting that they were ordering at restaurants versus what we actually knew what they were reporting and seeing if they matched or they didn't and the same thing for parent reports."
Hills began researching her topic on black teen mothers' success factors in October as part of a research course.
"There's a lot of stereotypes around black teen moms so I wanted to dig in and figure out what factors contributed to the ones who are successful." Hills said. "So I did a few literature reviews and found that family help and government played a big role in it."
She said her background living in a neighborhood where she saw a lot of black teen mothers inspired her project. 
"I'm in a research class where the focus is black mothers as a whole," Hills said. "A lot of people who are from my class today looked at things like health and postpartum and things like that, and I wanted to focus on teen moms. "
Silvia Zhou, a political science and business management major, won an award for her research project on Logan and City Heights community development.
She began working with her group at the beginning of the fall 2015 semester as part of the Aztec Consulting Program. 
"Our group got a really complicated project," Zhou said. "Our main client was Local Initiative and Support Corporation, who works with community partners in order to turn neighborhoods into sustainable and healthy communities. Our major task was to go out there to the communities to help small businesses and consult them."
Zhou, along with other award-winners, were invited on stage at the final award ceremony that included a keynote address from professor Guadalupe Xochitl Ayala, who presented her own research on reducing Latino health disparities. 
"For me it was a real privilege to be part of this project and be involved because this is something that we can actually go in the community and make a difference," Zhou said. "I was really happy that the clients that we worked with really got some benefit out of it." 
President's Awards for Research and the Arts, Provost's Awards, Dean's Awards, and various others were determined by a variety of judges from the SDSU faculty. Awards included monetary scholarships. 
"We had a huge turnout in the award ceremony," Rubio said. "It was good to have the students here to accept their awards. It was a lot of fun and there was a lot of energy so every time someone won an award it was really exciting."
Recipients of the President's Awards received a $500 stipend and will be invited to attend the California State University Student Research Competition in Bakersfield on April 29 and 30.