Student sells sea glass by the sea shore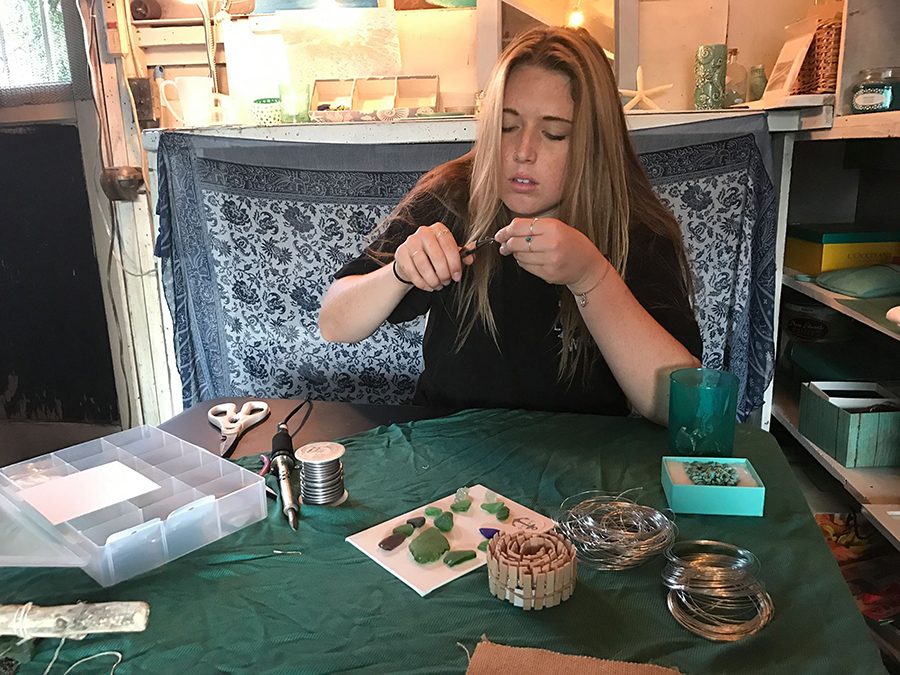 by Janelle Lafond, Contributor
November 16, 2016
Liberal studies senior may actually be the girl in the tongue twister, she sells sea shells by the sea shore.
Except, she sells sea glass.
Danika Brown harvests sea glass from local beaches to create jewelry.
Around a year ago Brown started a business selling sea glass jewelry and decor called "San Diego Sea Glass."
"It's so cool to take something that was once floating around in the ocean, getting carved by the sea and just wear it or have it for display," Brown said.
Brown harvests most of the sea glass at local beaches, but has collected some abroad in Spain and Italy as well. She finds her local sea glass in Coronado and at "Garbage Beach" and "No Surf Beach" at Sunset Cliffs.
Being able to find sea glass has to do with more than just location. Brown said that the tides and weather play a part in her search as well.
"You don't necessarily find it in the ocean," she said. "It is kind of where the waves crash. Sometimes I'm waist deep in the water searching, but sometimes its just sitting there on the shore. It's so addicting to look for."
For Brown, her whole process starts with searching for sea glass. She said that sometimes she'll fill a whole bucket and other times she'll only find a few pieces.
"The way it's formed is so cool because only the ocean can make that," Brown said. "For a good piece of sea glass it takes 20 or 30 years to be molded down into the shape that it does."
Brown isn't always alone in her search. Sometimes she takes trips to Mexico to harvest sea glass and local children will help her in her search.
"There's a school in Rosarito and we'll take the kids down and we get to all find sea glass together and we'll pay the kids for the sea glass they find," Brown said.
Brown loves getting the community together, whether its in Rosarito or San Diego, to search for sea glass. She said it's something that she wants to do more often.
Once she finds the sea glass Brown begins the process by rinsing off the sand off and leaving the pieces in the sun to dry. Once they're dry she will put coconut oil on all the pieces.
"It gives it a shine," she said. "I like it when they're kind-of dried out, but still shiny. It gives them a good texture."
Brown then separates all the sea glass pieces by color and decides which pieces to use for different types of jewelry. Brown says she uses the older pieces for necklaces. Some of the pieces are sold in bottles or made into wall decor as well.
From there, Brown begins making the jewelry.
"I'll find a piece that I think is pretty and start wrapping the wire. If I don't like the way I do it the first time, I'll do it again," Brown said.
Brown said she tries to use different wire colors, which come in variations of gold or silver, for different pieces. Brown also uses charms and shells, among other things, to create her jewelry. She has even begun to experiment with soldering.
"I've never said I'm an artsy person and I still wouldn't, but you just take it and go and do," Brown said.
When it comes to inspiration for her designs, Brown says it's all about the unique aspects of the sea glass.
"It depends on the piece of sea glass and what I think would complement it best," Brown said.
Brown is currently relaunching "San Diego Sea Glass with a new logo and different jewelry. Brown's friend Madie McKay recently helped to take new photos for the shop's website and social media.
"I love that she's been able to incorporate her love for the ocean and the sea as a way to bring other people joy," McKay said.
San Diego Sea Glass is currently sold in a few shops and boutiques around San Diego County including "Dana's Boutique" in Alpine and "Rare Bloom" in Point Loma. Brown hopes to sell her pieces in more stores.
According to their website, fifteen percent of the profits made from San Diego Sea Glass goes to an organization called Give and Surf, which is a charity based in Panama where they build and run schools to educate locals and teach them how to surf. The money donated goes toward these schools and gas for the boats that take the children to and from school.
Brown's involvement with charity doesn't stop there. She also works with a non-denominational Christian ministry organization called Young Life.
In the future, Brown hopes to hold more sea glass hunt fundraisers to raise money for both the Give and Surf organization and Young Life.
"Sea glass is just so awesome, so why not find it and share it with people?" Brown said.