Baseball victorious with 6-3 victory over Fullerton in series opener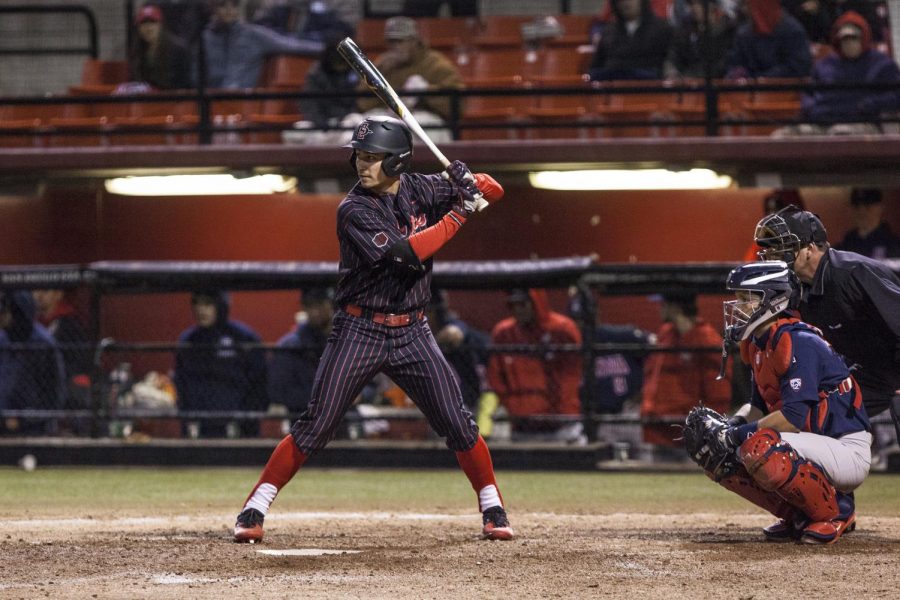 by Justin Wylie, Staff Writer
April 14, 2018
San Diego State baseball used two three-run innings to propel themselves to a 6-3 victory over the Titans of Cal State Fullerton on Friday night at Tony Gwynn Stadium.
The win improved SDSU to 22-12 on the season, while the loss dropped the Titans to 16-16.
The Aztecs first three runs came in the very first inning, which was highlighted by a two-run home run from SDSU senior outfielder Chase Calabuig, his fourth of the year.
Following the four bagger, junior Jordan Verdon was able to reach via single and advanced to third base on a one out double by junior catcher Dean Nevarez. Verdon would end up scoring on a wild pitch from Cal State Fullerton junior starter Colton Eastman.
Although Eastman (4-3) recorded the loss, he threw six scoreless innings after the first, and  tallied eight strikeouts, two walks and six hits in seven innings of work.
After Eastman's last inning in the bottom of the seventh, he had some choice words and gestures for the SDSU dugout that caused an uproar from the players and the fans.
"It was people being competitive… we were not going to back down from anything," Aztecs head coach Mark Martinez said about Eastman's theatrics. "It's a part of being competitive and it's a part of the game.
The umpires talked to both coaches after the incident, before junior pitcher Blake Workman relieved Eastman and promptly gave up three runs following a two-out 8th inning Aztecs rally.
Sophomore outfielder Julian Escobedo drove in Calabuig from second with two out, and advanced to second on the throw home. Junior designated hitter Chad Bible then laced a RBI triple, scoring Escobedo from second. Freshman third basemen Casey Schmitt wanted in on the action and knocked in Bible with an RBI single to conclude the scoring.
Martinez said that the team was fired up and inspired in the inning.
"That (incident with Eastman) absolutely helped spark those late runs," Martinez said.
While Aztecs junior pitcher Harrison Pyatt got the start, senior pitcher Jacob Erickson (3-2) came in and got the win with three innings of work.
Erickson was able to escape out of a bases loaded jam after coming in in the top of the fifth inning, after getting a ground ball to Schmitt who threw home for the force out. Erickson was then able to induce another ground ball for an inning ending double play.
"The turning point of the game was the bases loaded, no out jam that Erickson was able to get out of, that was outstanding," Martinez said.
Schmitt later came on to capture his second save of the year in the ninth inning, after playing the entire game up to that point at third base.
The Aztecs look to take game two of the series on April 14 at Tony Gwynn Stadium.