Sustainable transportation options promoted at campus fair
In conjunction with National Drive Electric Week, Associated Students Green Love at San Diego State hosted a Sustainable Transportation Fair on Sept. 12 to promote environmentally-friendly commuting habits.
During the event, representatives from electric car dealerships, rideshares, carpools and other organizations supporting efficient energy usage shared information on how the campus community can take steps toward commuting more sustainability.
Assistant Director of Sustainability Tom Abram said the expansion of sustainable transportation options is an important component of the campus' climate action goals.
"This all ties into our climate action plan — we have a goal of getting to zero carbon by 2050, which includes scope for commuting emissions," Abram said.
According to Abram, single occupancy vehicles account for 70 percent of faculty, 75 percent of staff and 55 percent of students commuting to campus. Mass transit is utilized by 16 percent of students, 10 percent of faculty and 10 percent of staff. Ridesharing makes up 8 percent of student, 5 percent of faculty and 6 percent of staff commuters.
"I think the most critical number is the people who get here non-sustainably because that's such a huge number and that's something we need to work on," Abram said. "That's why it is critical for us to be here today and talk to everybody about how we can get to campus in a more sustainable way."
Sustainable SDSU outreach intern, sustainability sophomore and chair of the Green Love sustainable transportation committee McKenna Avery said reducing carbon emissions is important for the university and the City of San Diego in meeting their climate change goals.
"Since a lot of students are commuters — the ones who aren't living on campus — we need to find ways that they can get here without getting in their gas-powered car," Avery said.
Since bike sharing company Ofo first launched at SDSU, students have been seen using the rentals bikes to ride around campus. Abram said how the program is affecting campus commuting will be measured during the next commuter survey in the spring semester.
"We see a lot of people who take Ofos home, but we don't see as many people bringing Ofos back," Abram said. "We are still trying to learn what the process is. I know we have some disadvantages based on (the) geography of the area."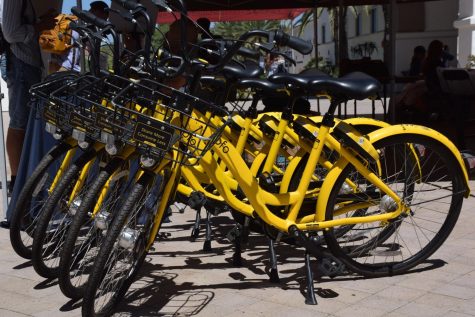 Ofo bikes are one of the sustainable transportation options on campus at San Diego State.
New electric car charging stations from ChargePoint will be installed over the next few weeks, replacing the Blink stations that have been on campus since 2012. Campus administrators will have greater flexibility in charging rates with the new company, compared to the fixed rates of Blink, Abram said.
"We'll be able to reduce prices and increase the amount of people who are taking advantage of them and charging their vehicles on campus," Abram said.
Following in the footsteps of the University of California, San Diego, SDSU is in the process of launching a discount program for electric vehicles with car dealers.
"We're in the process of launching an electric vehicle discount program," Abram said. "This program has been very successful at UCSD. It offers faculty, staff and — with some dealers — students discounts on electric vehicles."
Sustainable car owners have several rebate and funding options that are not mutually exclusive to help decrease the financial burden of purchasing a sustainable vehicle. Options for rebates and tax credits are available at the local, state and federal level, said Taylor Sieben, outreach coordinator at Center for Sustainable Energy.
Through these programs, the goal is to make electric vehicle ownership accessible to a more economically diverse population and to reduce greenhouse gas emissions.
"It's wildly important that electric vehicles are accessible to everyone," Sieben said. "Getting folks to reduce or eliminate the tailpipe emissions from their cars can have a huge impact on our environment, air quality, public health and it can make having a car a lot more affordable to have these incentives out there."