SDSU coaching staff addressed recruiting during bye week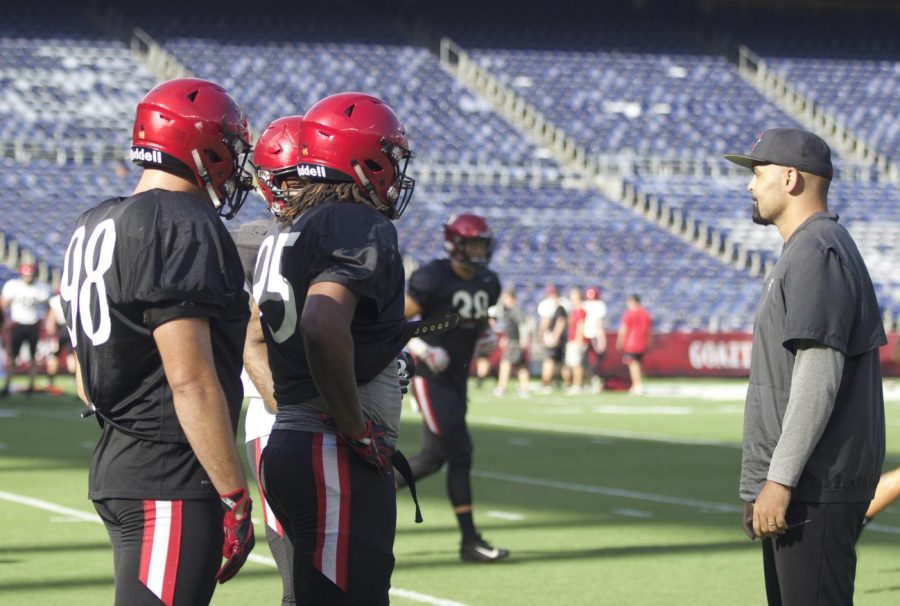 San Diego State football did not play a game last week, and while players had the weekend off, the Aztec coaching staff did not.
The bye week gave the SDSU coaches an opportunity to watch high school and junior college games in person and scope out any future Aztecs.
Head coach Rocky Long did not travel to check out these potential future Aztecs play but his coaches did.
SDSU's last practice for the bye week was Thursday which gave the coaches time to travel during the weekend and recruit.
Offensive coordinator Jeff Horton said the bye week is still a busy week due to the efforts put into recruiting.
"It's a bye week, per se, but it's a busy week per se too," Horton said. "It gives us a chance to catch up on recruiting."
The coaching staff checked out local high schools such as Mission Hills, Oceanside and Carlsbad.
Carlsbad High School is the alma mater of senior quarterback Christian Chapman, sophomore offensive lineman Zachary Thomas, junior linebacker Troy Cassidy and freshman defensive lineman Cameron Thomas.
The Aztecs looked to recruit outside of the local San Diego area as well.
Members of the coaching staff went to Arizona, Texas and the rest of California.
Defensively, the Aztecs have a lot of seniors to replace, particularly in the starting front seven.
Defensive coordinator Zach Arnett said that the focus on recruiting primarily depends on who is graduating.
"Usually you start off with what you're graduating," Arnett said. "There's more graduating on scholarship in the front seven than the back end, so there's probably, you'd anticipate more signees in the defensive front seven than in the secondary."
Linebacker Ronley Lakalaka, defensive end Chibu Onyeukwu, defensive tackle Noble Hall and defensive end Anthony Luke are among those starters graduating this year.
Horton said there aren't many seniors leaving to replace on offense.
"The first thing is we don't have a lot of seniors (on offense)," Horton said. "There's really not many scholarships to go around."
SDSU will look for three offensive linemen, two running backs and one receiver.
With Chapman graduating, Horton said the Aztecs are looking to recruit a quarterback.
"We'll probably look for a quarterback also because with (Chapman) being a senior; we'll want to replace him," Horton said.
SDSU will recruit a quarterback from either a high school or junior college.
Quinn Kaehler, who started for the Aztecs in 2013 and 2014, was a junior college transfer. Chapman, the team's starter since 2015 up until his injury in week two this season, was recruited out of high school.
Horton said he does not have a preference where the Aztecs might find their next signal-caller though he still likes the personnel SDSU currently has at that position.
"It really doesn't matter," Horton said. "If there's a right kind of junior college that we look at that we like, then we go on. If there's a real good high school freshman that we like, I like the guys we have coming back, and we have to see, evaluate what's out there and make a decision from there."