Protesters fume about Proposition 23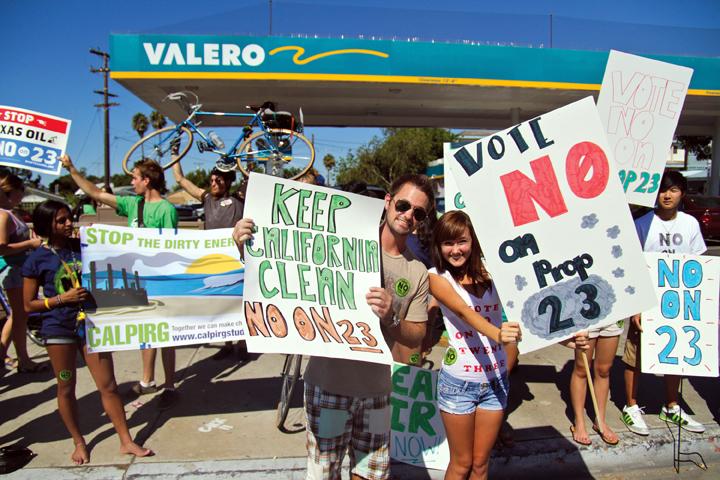 Jeff Lewis / Staff Photographer
Twenty-three days before the November 2 general election, students from all around San Diego banned together to protest Proposition 23.
Supporters of the measure refer to it as the California Jobs Initiative while its opposition calls it the Dirty Energy Prop.
Approximately 60 students chanted outside North Park's Valero gas station, "Get off our soil! We don't want your dirty oil!" alongside a chorus of passing cars answering to signs that read, "Honk for green jobs."
If passed, Proposition 23 suspends plans to reduce greenhouse gas emissions approved in California's Assembly Bill 32. Demonstrations organized by California Public Interest Research Group and Environment California were held all around the state in 20 different Valero gas stations. Texas-based oil companies Valero Energy along with Tesoro Corporation have together donated more than $5.5 million to fund the proposition.
Actions against Proposition 23 continue to grow at San Diego State with more than 5,700 students who pledged to vote "no" on it.
Supporters of Proposition 23 claim the measure would ease the state's unemployment by saving around 1.1 million jobs that would have been destroyed with the implementation of clean energy standards outlined in AB 32.
Communications Director of Proposition 23, Anita Mangels, said the AB 32 is often perceived as only targeting big energy and oil companies. But, according to the California's Air Resources Board, both San Diego State and UCSD are listed as major greenhouse gas emitters.
"SDSU is looking at $30 million in gas emissions fees that would probably be passed down to students, or other budget cuts would have to be made to compensate," Mangels said.
According to Bureau of Labor statistics, as of January of this year, California's unemployment rate increased more than 12 percent, which means more than 2.25 million Californians remained unemployed. The national average figure is 9.6 percent, which is less than California's.
Arguments submitted to the secretary of state in favor of Proposition 23 affirm the measure would only suspend the implementation of the clean energy law until the unemployment level in California decreases to less than 5.5 percent for four consecutive quarters, for a total of one year.
UCSD student and Calpirg chapter chair Aaron Speer argued that the cap of 5.5 percent for unemployment can be misleading to voters, because according to the Stop the Dirty Energy Propositions website, the unemployment level in California has reached 5.5 percent only three times in the past 40 years.
Instead of helping the economy, Holly Hellerstedt, with Power Vote at SDSU, argued it would only damage it.
"Over 500,000 jobs are in danger and those are the ones that are already here right now," Hellerstedt said. "Since 2005, the green energy sector has grown 10 times faster than any other sector in California's economy."
SDSU student Audrey Richardson, with Environment California agreed, as she added that green jobs are "the only bright shining star in our otherwise faltering economy."
Mangels disagreed with assumptions that green jobs are in danger with the passing of the proposition.
According to Richardson, student involvement is key when it comes to the November elections.
"Students are the most environmentally aware, the most concerned with clean job creation and the most open-minded in terms of renewable energy," Richardson said. "So they are the most likely to side with environmental issues."