FOOTBALL: MWC news and notes from the 2010 NFL Draft
Hang on for a minute...we're trying to find some more stories you might like.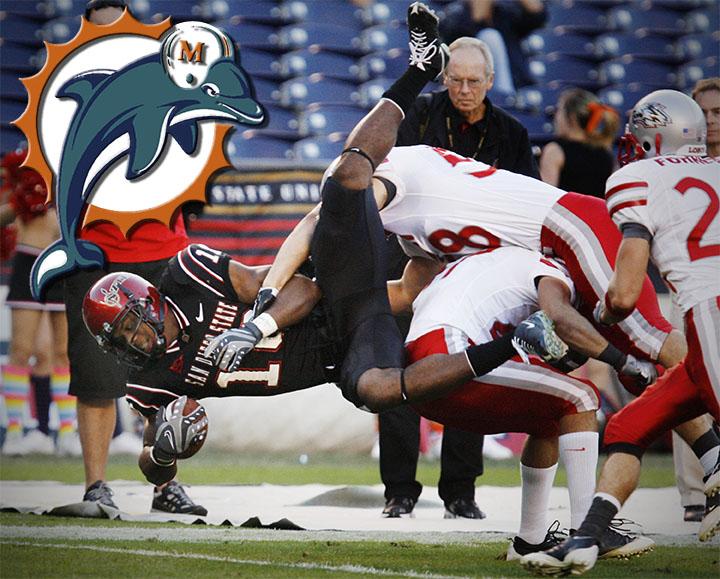 Glenn Connelly / Photo Editor
The San Diego State football team didn't have a player drafted in the NFL Draft for the first time since 2007. Still, the Mountain West Conference had a successful weekend. Take a look at some of the news and notes from the 2010 NFL Draft.
Wallace signs with Miami
Former SDSU wide receiver Roberto Wallace signed as an undrafted rookie free agent with the Miami Dolphins after the draft concluded on Saturday. Wallace, a 6-foot-4-inch, 223-pound wideout, struggled to catch the ball throughout his career with the Aztecs, but his measurables made him an intriguing prospect at the NFL level. During SDSU's pro day, Wallace ran a 4.41 second 40-yard dash, had a 36 1/2-inch vertical and did 19 bench presses at 225 pounds.
Wallace recorded 73 receptions, 940 receiving yards and four receiving touchdowns in 31 games with the Aztecs.
MWC has huge weekend
Thirteen former MWC stars were drafted in the 2010 NFL Draft. Here's how each team's players fared last weekend:
BYU
Dennis Pitta, tight end
No. 114 overall to the Baltimore Ravens
Colorado State
Shelley Smith, guard
No. 187 overall to the Houston Texans
New Mexico
Erik Cook, guard
No. 229 overall to the Washington Redskins
UNLV
Joe Hawley, center
No. 117 overall to the Atlanta Falcons
TCU
Jerry Hughes, defensive end
No. 31 overall to the Indianapolis Colts
Daryl Washington
No. 47 overall to the Arizona Cardinals
Marshall Newhouse
No. 169 overall to the Green Bay Packers
Utah
Koa Misi, outside linebacker
No. 40 overall to the Miami Dolphins
Zane Beadles, guard
No. 45 overall to the Denver Broncos
Robert Johnson, safety
No. 148 overall to the Tennessee Titans
David Reed, wide receiver
No. 156 overall to the Baltimore Ravens
Stevenson Sylvester, outside linebacker
No. 166 overall to the Pittsburgh Steelers
R.J. Stanford, cornerback
No. 223 overall to the Carolina Panthers