A handy tool for regular computer users
Hang on for a minute...we're trying to find some more stories you might like.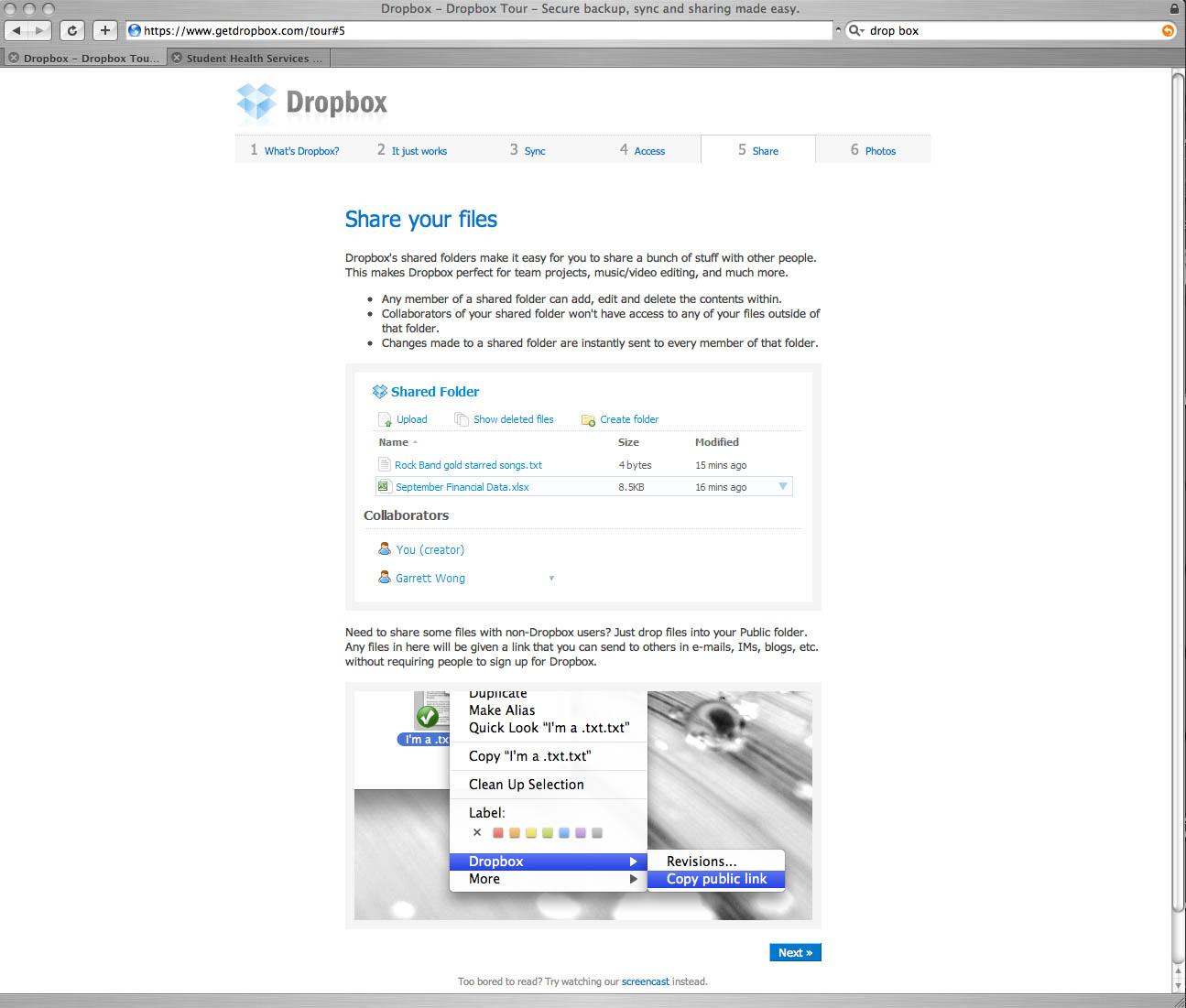 Glenn Connelly / Assistant Photo Editor
If your best quality is that you don't stand out, then you need to work on some social skills. But if a piece of software's best quality doesn't stand out, then something is being done right.
Dropbox, a new online media storage start-up based out of San Francisco, does just that.
Dropbox allows users to upload files and software online by simply dragging files into a specified folder with 2 GB of capacity. A user can either access the files online at the Dropbox Web site, or it can be found downloaded and ready to use in a Dropbox folder on another computer it is paired with.
"It was a lifesaver in school," said Jonathan Ying, 22, a member of the development team and recent UCSD graduate. "I was an econ major and had a lot of reports to write. It was much more convenient working out of a single folder. If I ever had to print anything, I would just have to jump online to get it."
Dropbox was launched earlier this year in February after a period of a closed beta testing on a select group of people. While it's currently open to the public, it's still considered a beta because of all the changes and fixes that come along with the evolution of such a system.
The program runs in the background and automatically designates your online folder. Then, you can drag, save or edit any file into the folder where it's automatically synced to the Dropbox server or another computer anywhere in the world.
Ying said with other start-ups with similar functionality, people need to learn how to use the software, and with Dropbox, that's not necessary.
Users don't have to learn the nuances of a new piece of software, just save, close, and you are done.
Because of those capabilities, Ying said the program's best feature, "is the fact we don't stand out."
"It's the integration with the operating system; you don't have to change how you work."
One feature Dropbox has that is hard to find even in the functionality of a normal computer is revision history. If a user accesses his or her files on the Dropbox Web site, he or she will be able to download and view previous versions of files that have been uploaded. If you need to send somebody that previous version, there is an option to publicly share the files to non-users.
If you were to edit a Word document and at some point want an old version back, Dropbox will let you download that old version from your archives with ease.
"People must know that the key word here is seamless," Ying said.
If 2 GB of space is not enough for students who require massive amounts of data for class work, Dropbox's premium program may be an alternative. For $99 a year, or $9.99 a month, premium members can have unfettered access to 50 GB of storage space on the Dropbox Web site.
Ying said that it's much more than just the tech-savvy users who use Dropbox's premium plan. Several companies, which he declines to name, have premium accounts to store and transmit data internally.
Dropbox's successes so far have been assisted in part by the users themselves. So much in fact, that a prolific user on the site's message boards is now a member of the Dropbox team, Michael Nagy. Nagy is an anomaly of sorts to the Dropbox team because Nagy became the only member of the team to break the age barrier of 25 in the 10-person team.
Ying hopes that the simplicity of the Dropbox will allow it to break through the looming statistics of success for online start-ups.
"We are not as well-established as other companies, like Microsoft," Ying said.
Nonetheless, if online storage, sending e-mails with Word documents in them or running out of space are major concerns of yours, Dropbox may help remedy some of those problems to get you through the semester.