No.7 SDSU looks to continue tremendous start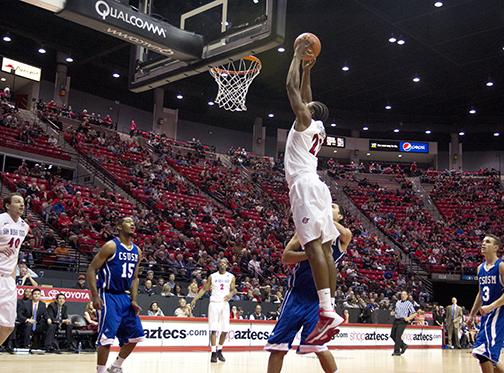 In the preseason Mountain West Conference poll, the media picked San Diego State to finish fourth in the conference. Voters seemed to believe that 2013-14 would be a rebuilding year for head coach Steve Fisher and the Aztecs.
When I wrote my season preview, I disagreed with the poll's results and thought the Aztecs' depth and work ethic would lead them to a successful season and a second place finish.
As of now it turns out we were both wrong.
The Aztecs haven't outperformed expectations—they've blown them out of the water. SDSU, 16-1 and 5-0 in the MWC, now stands firmly in the national spotlight as the Associated Press No. 7 team in the nation. The Aztecs' marquee victory came when they dethroned No. 8 Kansas University at the Phog Allen Fieldhouse in Lawrence, Kan. 61-57.
For a little perspective on that win's significance, consider this fact: this will be Kansas head coach Bill Self's 11th year coaching the team. In those 11 years, the Jayhawks lost just eight home games. The Aztecs handed Self his ninth.
Certain players are also finding themselves in the spotlight. Senior guard Xavier Thames has been named the CBSSports.com Sports Player of the Week, NBC Sports Player of the Week, ESPN analyst Andy Katz's Player of the Week and twice named the Mountain West Player of the Week. Thames' tenacious will to win and his NBA jump shot have earned him much praise.
[quote]"Xavier Thames is playing some of the best basketball of any point guard in the country right now," ESPN analyst Miles Simon said.[/quote]
Senior forward Josh Davis is also drawing attention with his uncanny rebounding skills. After SDSU's victory against University of Nevada, Las Vegas, Davis now has double-digit rebounds in 11 straight games, leading the nation.
"Josh Davis is pound-for-pound the best rebounder in the country," CBS Sports analyst Seth Davis said.
And nothing can be done without a coach and his or her staff. The work of Fisher and his staff has not gone unnoticed by sports writers throughout the country- ESPN's Jeff Goodman selected Fisher as his midseason coach of the year.
Many aspects of SDSU's team factor into the program's success, but one aspect factors most heavily: the team's defense. Hard-nosed, old school defense.
"We definitely take pride in (defense)," junior forward J.J. O'Brien said after SDSU's victory over UNLV. "Our defensive field goal percentage is something that we've taken pride in all year."
In fact, the Aztecs have forced their opponents to shoot the lowest field goal percentage in the country: 35.4 percent. SDSU's 55.7 points allowed per game also ranks second nationally.
So far the Aztecs have kept a cool head and won all five of their conference games amidst the national attention.
"It feels good (to be ranked in the top 10)," Thames said. "We put in a lot of hard work so it's a blessing and an honor, but we just have to keep working hard, keep winning games and keep our focus."
The Aztecs' next challenge will come tonight when they travel to northern California to play the San Jose State Spartans.
The Spartans, one of two new additions to the MWC this year, have struggled in their new conference and lost all six games. However, their losses against Colorado State and University of New Mexico came by only a combined six points. SJSU freshman guard Rashad Muhammad averages more than 16 points per game and shoots 45 percent from 3-point range. In addition, the Spartans have home court advantage—a big edge in conference play.
Because of their success, the Aztecs will face their opponents' all-out effort each and every game. After all, a win against top-10 ranked SDSU could earn a program like SJSU a shot at postseason basketball.
[quote]"We're going to have a target on our back every game," Thames said. "Everybody is going to want to beat us."[/quote]
The Aztecs will be pushed hard in every MWC game, but in the end, SDSU's stifling defense will outmatch SJSU's 261st-ranked scoring offense.
Prediction: SDSU 70 SJSU 56
Students can watch the game tonight at 7 p.m. on ESPN3 or listen on The Mighty 1090 AM.
Photo by Jenna Mackey, Staff Photographer

About the Writer Matthew Bain, Managing Editor
Matthew Bain is the managing editor for The Daily Aztec. He's a senior journalism major with the Honors minor in interdisciplinary studies. His work...