SDSU offers name-change option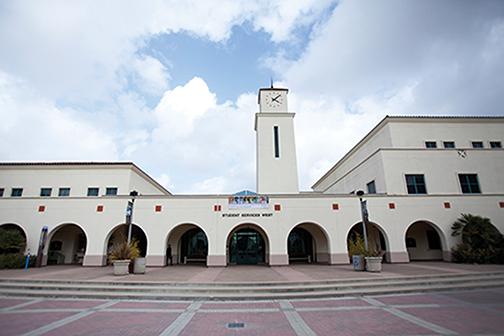 by Jaclyn Palumbo, Staff Writer
November 24, 2014
Hang on for a minute...we're trying to find some more stories you might like.
San Diego State's Office of the Registrar announced in an email a new preferred name option to students earlier this month.
The option was put in place primarily to accommodate students who are gender non-conforming or students who identify with a name that differs from his or her birth name.
"Students who have enrolled at San Diego State University under their legal names may change their first name to a preferred first name which may differ from the sex assigned to them at birth," according to the Office of the Registrar email.
The preferred name option is not intended for students who prefer nicknames or a shorter version of their given name, although there was a fine line distinguishing the two, Registrar Rayanne Williams said.
This option was discussed at past annual meetings of the 23 California State University registrars, Williams said. Because of adjustments that were made to programming in the database, it was a yearlong process before the option was made available to SDSU students.
Williams consulted Director of Student Rights and Responsibilities Lee Mintz, Coordinator of the Pride Center Anthony Keen, and members of related campus organizations for feedback prior to finalizing the new initiative.
Among those affected is television, film and new media sophomore Emmanuel Istomin who is now able to have his preferred name on his RedID card. He is a female-to-male transgender student.
"Before, I was outed in class discussions on Blackboard or when we were put into groups using Blackboard," Istomin said. "I also had to go up to the front of the class on the first day of classes to let my professors know that I go by a different name."
By changing to a preferred name, an individual's name preference will appear on faculty class rosters, faculty grade rosters, Blackboard rosters, Blackboard home room rosters and RedID cards, according to the Office of the Registrar.
"It helps avoid the awkwardness and discomfort of having to tell my peers and professors my name, not my birth name," Istomin said. "It also avoids being given looks and questions when presenting my ID card since the name wouldn't match my gender."
In addition, cashiers and those working at the SDSUcard Office received special training in case the first name on the RedID differs from the name that comes up with the ID number. Student Health Services is planning to adopt similar procedures to recognize name preferences.
"Having the ability to have my name on my ID card is a great change from not having my name respected," Istomin said.
Official documents such as transcripts and diplomas will continue to reflect the student's legal name. In order for those documents to have the student's preferred name, students must legally change their name.
Last names can't be changed under the preferred name option because of recordkeeping complications, Williams said.
"There's so much that I need to learn about different groups on campus and their needs," Williams said. "We are always here to listen and to see what we can do. If there is something we can accommodate, then we will try — people just need to ask and inquire."
Students who wish to register a new name must submit to the Office of the Registrar a form available online or at the office. The name preferred form asks for the student's legal name, preferred name, date and a signature. Once the form is processed, students can get a new RedID from the SDSUcard Office by filling out a "Replacement ID Card form" issued by the Office of the Registrar.