Political cartoonist discusses his art and inspirations with SDSU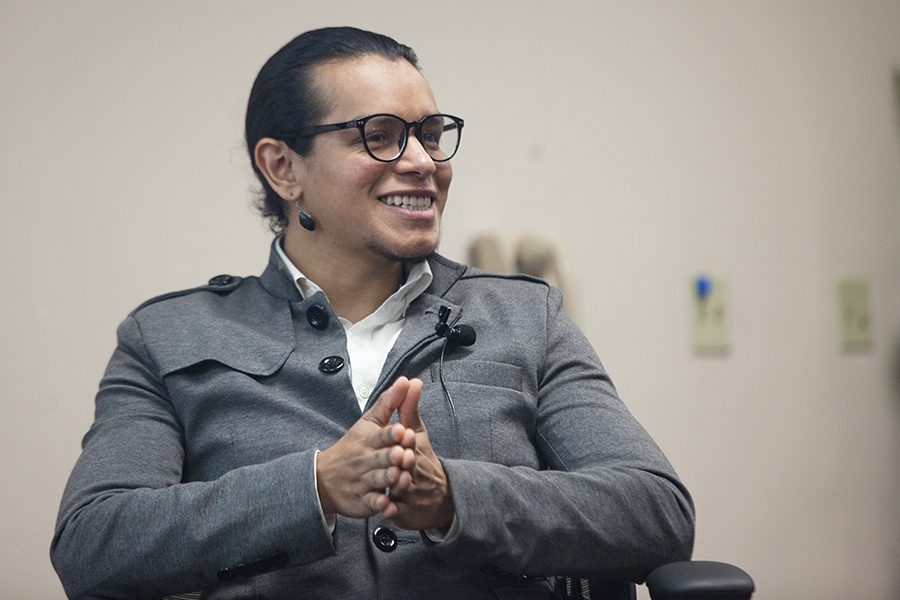 by Stephan Early, Staff Writer
November 17, 2017
Political cartoonist Joaquin Junco Jr., AKA "Junco Canché,"spoke about his experience as a Chicano artist and what his work represents at the Malcolm A. Love Library Demographics lecture series on Nov. 8.
As he sat in his military style green jacket, buttons pinned on the lapel, long hair tied up in a ponytail with a black Padres hat, he spoke about the moment he knew he wanted to pursue art while thinking of his grandfather.
"The last words I ever said to him, not knowing this would be the last time I saw him alive, were 'I promise you I will be a great cartoonist,'" Junco said. "Now every time I draw something, I remember him."
Junco has won awards for his art that have been featured in several publications including  El Coyote Crossing Borders, La Prensa, San Diego Free Press and the Southwestern College Sun.  
During the conversation led by SDSU's Dr. Bill Nericcio, Junco candidly spoke about topics from cultural appropriation and appreciation, and what it means to him to be a Chicano.
Junco talked about the use of SDSU's Aztec warrior and the societal implications.
"'Does the use of this make me want to go cry in a corner?' No," he said. "'Do I think that it is fundamentally wrong?' Yes, absolutely."
Junco also spoke about his family and their influence on his life. He said his father has the same talents as him, but didn't have the same opportunities.
"I know in a way he is kind of living that side of life through me," he said.
Junco was born in Chula Vista, and moved to Tijuana, Mexico with his family when he was still a young boy. He said while growing up in Tijuana, he would consume art and media that came from the states, like X-men cartoons. His family decided that it was time to move back to San Diego when he was still in middle school.
"We moved out here and were working out here to build a better future, and that's something that every immigrant family knows is essential," Junco said.
The adjustment period that occurred after moving away from Tijuana helped him realize that his identity was changing.
"We moved here, and I started thinking, 'Alright, so where do I stand? What do I believe in? What's my identity?'" Junco said. "I'm not going to stay silent against these people who want to put immigrants in a bad light."
He said he embraced the fact that he was of two worlds—he was Mexican and American.
He said he didn't want to contribute to what he sees frequently happen with second and third generation Mexican-Americans—distancing themselves from their culture.
He said even if these people don't claim to be Mexican by culture, when they walk down the street that is what people see.  
"I guess it's true of this old Mexican-American saying, 'Ni aqui y ni alla,' which means not from here and not from there either," Junco said. "This is my reality, I live it and breathe it. I am both."
Junco's dual identity seems to come through in more ways than just one. The college-educated punk rocker with an easy going conversational style makes artwork that is often characterized as "provocative" and "in your face."   
"(Junco) is a guy who has these two different personalities," Fernando Ramirez, Junco's former boss at RC Screen Printing, said. "He's so polite, and then you see him at a punk show and it's a completely different guy."
Ramirez attributes this duality to two of the different artists that influence Junco.
One of which is Mario Torero, an artist and activist who coined the term "artivist." The other is Lalo Alcaraz, a prominent Chicano artist whose syndicated work can be seen in the Los Angeles Times, along with many other publications.
Junco never thought he would find himself rubbing elbows with his heroes like Torero or Alcaraz.
"At the Chicano artist panel at San Diego International Comic Con, I was sitting right next to Lalo Alcaraz," Junco said. "Later on that day at a presentation I handed him the mic and he pretty much endorsed my work, which just blew me away."
Junco is currently attending California State University San Bernardino. His work can also be seen in the Demographics exhibit in the Love Library.