SDSU looks to extend winning streak to five against Air Force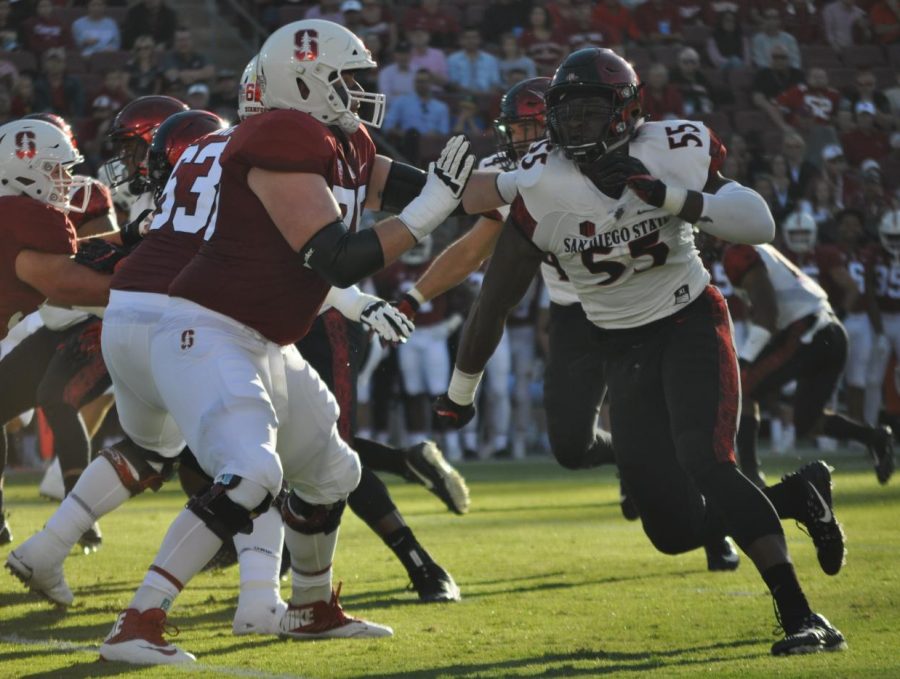 San Diego State football is seeking its fifth straight win of the season when it takes on Air Force on Oct. 12 at SDCCU Stadium.
The Aztecs (4-1, 1-0) are coming off a 19-13 road victory over Boise State, handing the Broncos their second loss of the season.
Head coach Rocky Long said that facing Air Force (2-3, 0-2), who runs a triple-option offense, will be a difficult test for SDSU.
"I think the triple-option is the best offense ever designed because it's the one offense when (the opponent gets) on the board, you can't win," Long said. "They eliminate two guys by reading it the right way, so they have two extra blockers than any other offense in the running game."
The Aztecs' run defense is ranked second in the nation, allowing 61.8 rushing yards per game.
Long said there's some uncertainty facing the Falcons' unique ground attack.
"It's a completely different rushing game than we see all the rest of the time," he said.
Air Force's triple-option offense comes into Friday averaging 254.8 rushing yards per game.
The Aztecs have not allowed a carry of more than 16 yards this season.
Junior linebacker Kyahva Tezino said that he loves playing against the triple-option offense.
"You know exactly what they're going to do, so I love games like this," Tezino said. "I like the physicality on both sides of the ball."
Tezino was one of the leaders on defense against Boise State last week with seven tackles and a sack.
Boise State, who came into the game ranked eighth in total offense, was held to 229 total yards and 13 points.
With the short week, Long said that the Aztecs need to control the clock on offense, so the Falcons are unable to get more opportunities to run the triple-option.
"Our formula is to keep the ball, run the clock and their kind of defense makes it very difficult to do that," Long said. "Their offense makes it very easy for them to keep the ball away from us for a long time."
Junior offensive lineman Daishawn Dixon said the short week forced the Aztecs to prepare for Air Force immediately after the victory in Boise.
"We had practice on Sunday right after the (Boise State) game, so we came back and got right back to practice to get ready for this week."
With the win last week, SDSU received 24 votes in the AP Top 25 Poll, ranking them 29th.
The Aztecs received 25 points in the Coaches Poll and are placed 31st.
Even with the winning streak, Tezino said that the Aztecs like having a chip on their shoulder, no matter what their ranking is.
"We hope we're the underdogs every week because we want to come back and prove to everyone that we are somebody," Tezino said. "We're kind of like the team to just go out there and do our work and do our job and win the game."