Women's tennis falls to UNLV in Mountain West Championship final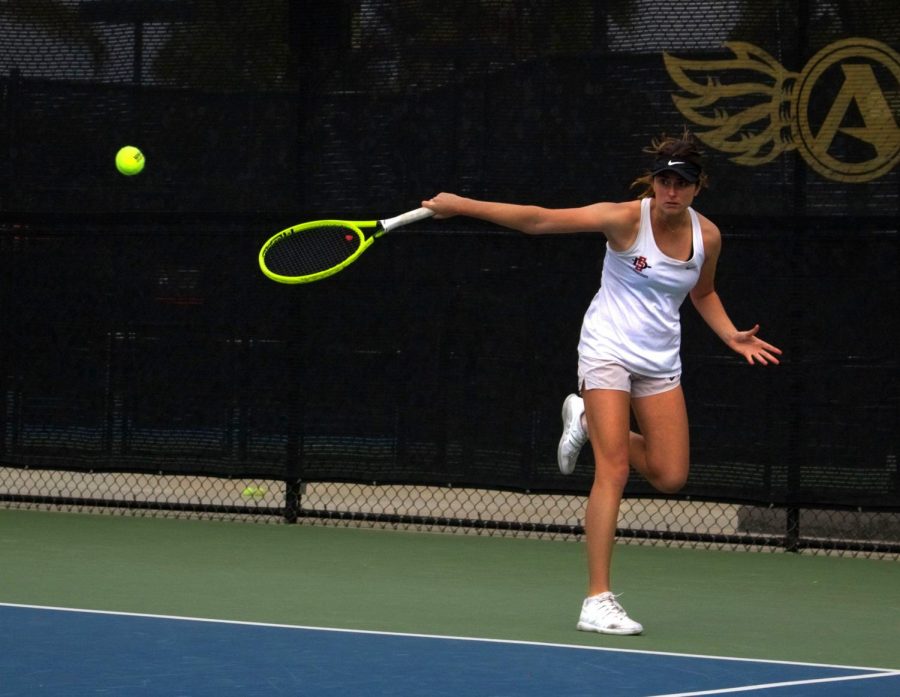 No. 3 seed San Diego State women's tennis fell to No. 1 seed UNLV by a final score of 4-0 in the Mountain West Championship final on April 27 at the Aztec Tennis Center.
The Aztecs (15-10, 3-1) were shut out in singles after dropping two matches in doubles play to the Rebels (17-6, 8-0).
UNLV freshman Connie Li and junior Samantha Li defeated SDSU senior Jenny Moinard and junior Mia Smith, 6-3, to open doubles play.
The Rebels' No. 74 ranked duo, consisting of senior Aiwen Zhu and junior En-Pei Huang, secured the doubles point by defeating SDSU sophomore Nnena Nadozie and freshman Alicia Melosch, 6-3.
SDSU senior Magda Aubets and sophomore Abbie Mulbarger were winning their doubles set 5-3 before play went unfinished.
Head coach Peter Mattera said the doubles point was just within the Aztecs' reach.
"The doubles was very close," Mattera said. "That point we thought was going to be critical, but we didn't get it."
In singles play, the Rebels had little trouble closing out the competition.
Huang shut out Moinard in the first set, 6-0, before winning the second set, 6-1. UNLV senior Jovana Kenic also took down Aubets in two sets by final scores of 6-2 and 6-1.
Zhu won the fourth point by defeating SDSU freshman Shakhnoza Khatamova – 6-3 and 6-2 – to win UNLV its sixth Mountain West Championship.
Mattera said the Aztecs' desire to win might have been too strong, causing nerves to affect their play.
"They really wanted to win, and perhaps they wanted to win almost too much," Mattera said. "Sometimes, if you want it so bad, you kind of freeze up a little bit in those big moments, and we might have had a little bit of that today."
Smith, Nadozie and Mulbarger's singles matches all went unfinished.
The Aztecs crashed out of the final without a victory after winning both the quarterfinal against No. 6 seed Colorado State and semifinal against No. 2 Air Force each by a final score of 4-2.
Nadozie expressed her displeasure with the loss but said she was glad the Aztecs reached the final.
"It's definitely disappointing to lose as a team," Nadozie said. "In the end, we had a good season. We played so well, and to make it this far, I'm still happy that we made it this far with this team."
SDSU seniors Aubets and Moinard will not return next season. Regardless of their departure, Mattera said he's hopeful for next season as well as the Aztecs' newcomers.
"We have a really good returning group coming back next year," Mattera said. "There's always hope on the other side. Today is probably not the right day to be looking forward, but soon, we'll start to look forward. We've got a couple of really wonderful recruits coming in."
Despite the Scarlet and Black finishing second in the conference tournament, the Aztecs will not receive an at-large bid to play in the NCAA Tournament.
UNLV, on the other hand, will play No. 2 seed Texas Tech in the first round of the NCAA Tournament.
Although SDSU's season is over, Mattera said he is appreciative of the Aztecs' effort throughout the year.
"I (am) very proud of my team," Mattera said. "They've had a wonderful season, and they've represented this university at a very, very high level."