The motion of Kocean
Getting to know Kocean, the pioneers of dirt pop
San Diego State University has earned the nickname "rage state" for its lively party scene. The abundant nightlife means that forming a band and playing at house shows is a feasible reality for SDSU students. Katie Thomas, a music business and criminal justice major at SDSU, has proven that forming a band is not only feasible, but it can be a very meaningful part of the college experience.
Thomas has been a musician for most of her life, starting with learning piano as a child and later learning how to play the guitar and sing. She formed her punk band, Kocean, in April 2021 in order to release her original song entitled "Should've Known."
"When we were trying to release the song, we were like, 'What (name) do we release it under?'" Thomas said. "I actually had an uncle who had passed away recently whose name was Kocean, and I always loved that last name and I said, 'You know what, I'm going to make it into a band name.'"
Each member of Kocean joined at a different stage of the band's career. Thomas met Nick Kusior while asking around for a drummer at a party, and he has played with Kocean since then. Isaiah Hand joined Kocean as a guitarist after watching them rock a house show. In September 2022, Zen Yokel joined Kocean as a bass guitarist.
Yokel is the president of Aztec Music Group and Thomas is the vice president, so the pair already worked together closely.Yokel views the club as an integral part of his experience at SDSU rather than as a secondary interest.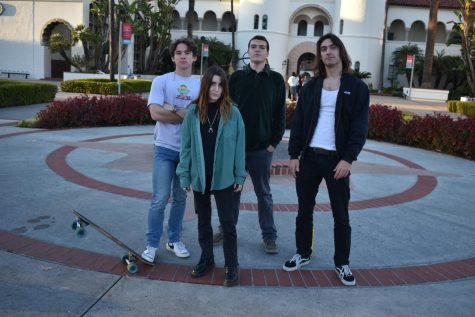 "I consider AMG a part of my academics," Yokel said. "I definitely prioritize it. I don't let my grades slip, I'm not really sacrificing (so) much, SDSU really fosters the community."
Thanks in part to AMG, Kocean has been growing in popularity and they are quickly becoming a staple at house shows around SDSU.
"People see (us) post and they're like, 'Oh, Kocean's playing? That's what I'm gonna do Friday night,'" Thomas said. "That's so cute and it literally makes me so happy. I get little butterflies thinking about it."
Kocean brings high energy to every show they play, and their unruly stage presence is reminiscent of Green Day's shows during the 90s. Thomas always commands the stage– whether she is standing on a bass drum, shredding her guitar on the ground or getting Kusior to take his shirt off, she always encourages the audience to let loose and embrace a little chaos.
"A lot of people aren't very well versed in harder, moshier, thrashier stuff," Kusior said. "So a lot of people have to be pushed out of their shell to dance and mosh with everyone."
Besides their infectious stage presence, the thing that really keeps people coming back is their music. Their sound is largely inspired by girl punk bands such as Destroy Boys, Hole and even Paramore. However, Kocean's music is also pop-oriented, which results in a sound that is known around SDSU as dirt pop.
"We've got the pop, we've got the punk, and we've got some pretty hard riffs," Hand said. "We've got a good groove. The music's definitely danceable."
Kusior commented that every Kocean performance is a party. Although he would love to see the band grow in the future, he is more focused on embracing the present.
"Our goals in Kocean are just to play our music, play as much as we can, and have as much fun as we can," Kusior said. "If it can lead to more, if it's a job, that's the dream. But if it doesn't, you know, it happens."
Before any fun can be had, a lot of legwork must be done behind the scenes. Coordinating practices always proves to be a challenge. For one thing, everyone has a full schedule, and it can be difficult to balance school work, AMG business and personal matters. Once everyone's schedule aligns, an even bigger challenge arises– finding a place to rehearse. The band often resorts to rehearsing in Parking Structure 12. Kocean is one of many bands who can be heard rehearsing in P12, especially during the night time when the lot is empty. While the space is sufficient, it is not ideal.
"It is a legitimate drag to have to coordinate (rehearsing in P12) and not being able to be anywhere else," Kusior said. "Especially given the elements and the weather…then every house you try to go to for a show (gets) noise complaints."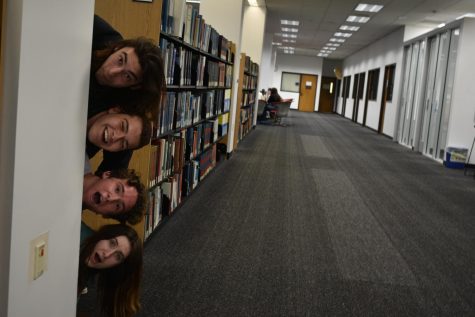 As an SDSU-affiliated band, Kocean wishes they had access to a reliable rehearsal space through the school. Backdoor Studio is a great option for students to access a free studio, but it is usually booked. Although the music building does contain its own practice rooms, Thomas explained that the music department is underfunded and has limited space.
"We need to have more space," Thomas said. "We need to have more love from the school…because then we as bands and artists can have more opportunities to do things. We could rely on our school for stuff. But we can't right now."
Despite its limited accommodations for musicians outside of the music department, SDSU remains a prime location for starting a band. Kusior commented on the expanded opportunities, which SDSU can offer musicians.
"It's nice that SDSU is so big," Kusior said. "A lot of my friends go to these small liberal arts schools in Pennsylvania. There are 2,000 kids there and like 4 people play guitar on campus. Here, you could go anywhere and probably meet someone who plays guitar or has a band."
Kocean proves that starting a killer band is absolutely a possibility for students who are really committed to it. Hand — the guitarist — nicely summed up his experience with merging the two worlds together.
"I feel like I find time to balance music and do (school work) as well," Hand said. "Music is (at the) top of my mind outside of school. That's really what I want to be doing and it's awesome for me. I'm just really glad I've been able to find time to do both things."
Hand alluded to the success of Van Halen, a band whose influence spread by playing house party after house party. Parties are always in abundance at rage state, and there is a very real potential for bands to gain significant attention. Kocean hopes to ring in a new era for SDSU by shining a spotlight on the thriving music scene which has gone largely unnoticed, and they are paving the way for any student who shares in that passion.
Kocean's music is available to stream on Spotify, and they can be followed at @koceanlive on Instagram.