San Diego State men's soccer stretched their unbeaten streak to four with a 3-0 win against George Washington on Friday night at the SDSU Sports Deck.
An early goal by forward Austin Brummett in the third minute established the mood for the rest of the match for the Aztecs (3-0-1). In the second half in the 58th-minute, forward Rommee Jaridly scored a goal with the assist by Brummett. Defender Reid Fisher scored the final goal — his first in the NCAA — with assists from defender Ulises Esquivel and Brummet in the 74th-minute.
"(Brummett) just worked and worked, not a lot of people know he had some pretty bad injuries all of last year that we were nursing him back from, and I think he's just scratching the surface of what he can do," said head coach Ryan Hopkins. "We're so excited that he's with us and how he's performing, we can't wait to see what the future holds for him."
Both teams played physically, with George Washington (2-1-2) fouling 20 times compared to SDSU's nine, which earned both sides multiple yellow cards and GW a red card.
The Revolutionaries drew three yellow cards as John Matlock, Colin Prendergast and Yago Torres were booked. Later on Torres received a red card due to unsporting behavior.
SDSU was shown five yellow cards, which were given out to Dylan Presto, Lorenzo Hernandez, Seth Clark, Jules Anderson and Jaridly.
"Our coach was emphasizing how we need to keep our cool because they were trying to rile us up," Brummett said.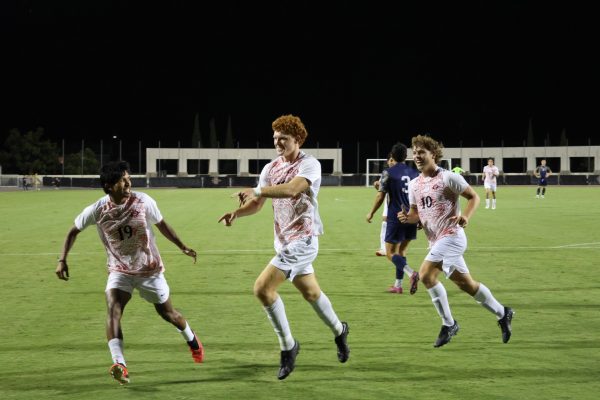 Clean sheets have been a key to success for the men's soccer team as they have held their opponents scoreless in the first four matches. The Aztecs are one of two teams in the nation that have yet to concede a goal.
"Clean sheets, it's the first thing on our board every single day that we talk about is that we're not going to lose if we don't give up a goal," Hopkins said. "Our motto (is) pressing to score goals."
As the Aztecs have performed well in these non-conference matches, they have worked to block out the public's opinion.
"In (the) terms of the preseason rankings and teams talking about us, we don't really look at it, but it stays in the back of your mind. So we've got a point to prove every time(we are) on the field," Brummett said. "(We) enjoy the win when we do win, but also look at the things that we could have done better."
The men's soccer team returns for another home match against UC Riverside, the defending Big West Conference champions, at 7 p.m. on Sunday, Sept. 10 at the SDSU Sports Deck.