Aztecs hold off Lobos to claim 19th win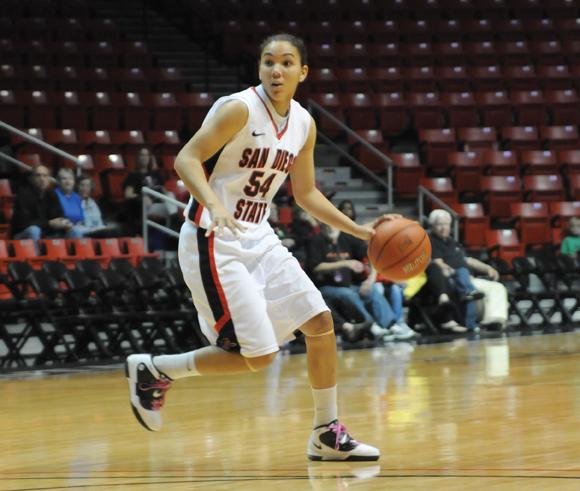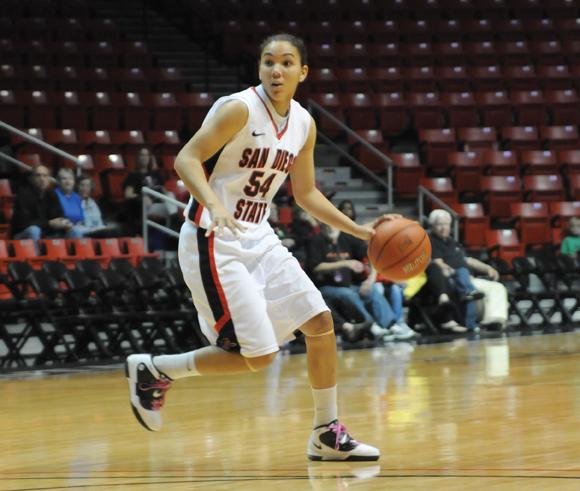 It was like a dramatic play, a showcase that had some of everything.
A tense setting: The Pit. A rising action: A 20-point lead. And a plot: Getting off to a hot start, handling overwhelming pressure and having a struggling star shine on the stage in the end.
The San Diego State women's basketball team (19-5, 9-1 MW) stopped a huge comeback to take a 57-44 win against the New Mexico Lobos in Albuquerque, NM last night.
In the victory, junior center Malia Nahinu earned her first career double-double scoring 16 points, grabbing 15 rebounds and getting five strong blocks.
Junior guard Chelsea Hopkins added 12 points and six assists, while junior guard Courtney Clements reached a milestone of scoring more than 1,000 points in her collegiate career (Arizona / SDSU) with eight.
"We planned to exploit them because last time they showed us a 2-3 defense," Nahinu said. "We wanted to get the ball inside and then pop it back out."
Popping it out wasn't necessary after tip-off as Nahinu scored seven of the Aztecs' first 14 points.
"That kind of was our game plan going in," SDSU head coach Beth Burns said. " Heck, that was our offense in the first half."
The Aztecs' MW leading defense held the Lobos to just 22.7 percent from the field and forced 12 turnovers to put SDSU ahead 24-10 at the break.
Still, UNM was ranked the best 3-point shooting team in the conference (.380) coming into this game, reminding SDSU the game was still not over.
"Our plan was just to continuing getting big stops," Nahinu said. "We had to lock onto to them defensively."
Already prepared with the defensive mindset for the second half, Clements quickly came out with the hot hand. She scored back-to-back jumpers followed by a layup to give the Aztecs a huge 20-point lead.
Rattled with a slow start, UNM responded with a 7-0 streak and continued to attack. Led by senior forward Porche Torrance, who finished the game with 20 points, the Lobos put together a 19-8 run with 8:31 remaining.
The momentum-shift, mixed with the loud energy in the crowd, put the Aztecs to the test with just a 45-39 lead with 5:19 remaining.
Somebody had to step up, and quite fittingly, the struggling sophomore guard Kiyana Stamps was that somebody. Until that point, Stamps had missed 24 consecutive field goal attempts throughout the last three games.
The past was suddenly forgotten, however, as she knocked down a clutch 3-pointer with the shot clock expiring.
"She had to take the shot," Burns said.
Things continued to fall the Aztecs' way as Torrance fouled out with 3:22 remaining, quieting the arena.
Stamps then put an end to the last of UNM's hopes after nailing another three to put the score at 57-42.
"We were glad it was her, if anyone, to come up with the big shots at the end," Nahinu said.
SDSU will try and continue to stretch its one-game lead in the MW when it takes on Air Force at 2 p.m. on Saturday in Viejas Arena.