Aztecs defeat 49ers 8-2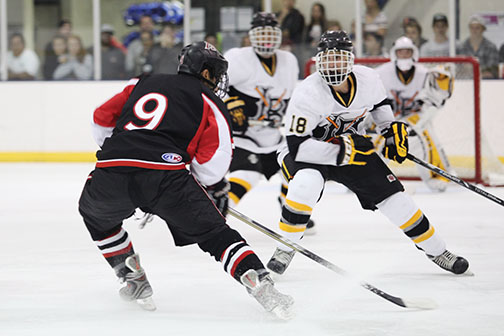 Heavy hits and light whistles were on display Friday night as the San Diego State Hockey Club hosted California State University, Long Beach  in its home opener at the Salvation Army Kroc Center. Aztec fans held a strong presence throughout the game and were rewarded with a lopsided 8-2 win against the 49ers.
In the opening minute senior defender Brandon Nevarez placed a beautiful pass off of the boards just ahead of senior left winger Eric Stelnick, who beat Long Beach junior goalie Steven Strother for a seemingly effortless score. With just 53 seconds left in the first period and the Aztecs in the lead 2-1, freshman defender Vincent DiMaggio scored on the power play and the crowd went nuts.
The crowd's presence was not overlooked by the players.
"I love being with the fans and having them get into it," DiMaggio said. "It's always the best part. It's something to look forward to".
However, it isn't just fun and games with the young player. He showed maturity as he went on to applaud his team for its offensive diversity.
"We had a lot of forwards score, we had a lot of D score, and we had a lot of rookies score," Dimaggio said. "The No. 1 problem is not having the ability to score in tough games, as you can see we have everyone on our team putting pucks in the net."
Late in the second period, the 49ers took advantage of a poor play on the puck, capitalizing on an ensuing 2-on-1 to cut SDSU's 4-1 lead in half. The Aztecs responded on the next shift and put Long Beach to bed as sophomore forward Travis Sevilla scored his second goal of the night.
The remainder of the game was a testament to the unsung hero at sophomore goalie Connor O'Brien and the stingy Aztec defense.
SDSU head coach Chris Migliore praised O'Brien's play.
"Kids have a lot of faith in him, which helps our defense. He does a great job back there and he's a great leader," Migliore said.
O'Brien will split time in the crease with junior goalie Filip Curkovic for most of the season.
"I'm a believer in riding the hot hand," said Migliore. "Two goals against a good Long Beach team puts Connor a little bit ahead, but Filip has worked hard and deserves his chance."
Curkovic's first chance is expected to come next weekend as the Aztecs face Arizona State University's talented Division I team for a two-game set in the desert.
SDSU's next home game is at 9 p.m., on Friday, Oct. 4 against Loyola Marymount University at the Kroc Center.