Aztecs emerge empty-handed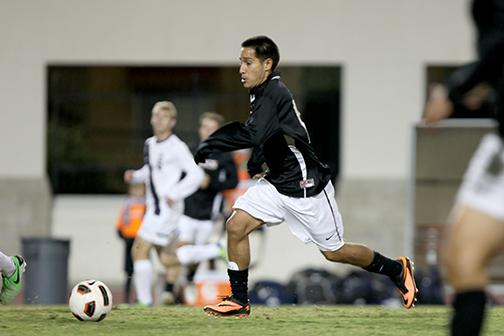 Last Saturday night served as the San Diego State men's soccer team's final game of the regular season, in which they hosted the No. 2 ranked UCLA squad and fell behind early. Despite out-shooting the opposition 18-16 in their senior night, the Aztecs failed to put any points on the board and were defeated 3-0, capping off what has been an extremely frustrating season.
The first goal was scored by the Bruins in the 28th minute, off a pass sent through the box and into the back of the net. Soon after, the Aztecs fell even further behind when an opposing forward sprinted down the field and beat the defense with a shot that found its way into the bottom-left corner of the net.
Although the score seemed to be one-sided, the shot column alone shows the level of intensity and effort that was maintained by the Aztecs. Sadly, UCLA's goalkeeper tallied a total of seven saves, some of a very high caliber that left the Aztecs with no answers.
At one point in the first half, senior midfielder Kody Duff fired a shot that was saved by a sensational diving play by the opposing goalie. The immediate rebound was then handled by senior midfielder Abraham Villon whose shot sailed just high of the net, again leaving the Aztecs-empty handed.
Their frustrations didn't end, as several more shots were taken without any success. At the start of the second half, UCLA picked up right where it left off, scoring yet another goal in the 58th minute that put the spear in the sides of the Aztecs.
Despite finishing the regular season without a winning record– 6-11-2 –overall, the Aztecs have a lot to pride themselves on. This year's top performers are senior forward Jordan Ongaro, first with 21 points on 10 goals, Villon in second with 19 points on 6 goals and 7 assists, and Duff following in third with 10 points on 4 goals and 2 assists.
Photo by Wesley Beight, Staff Photographer