Aztecs dive into MW Championships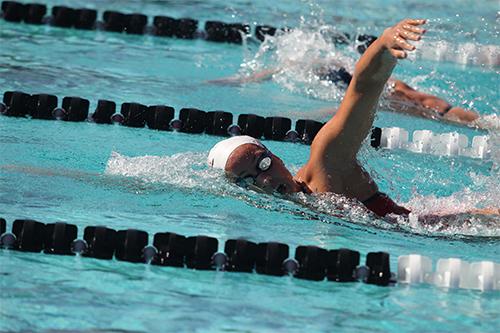 Heading into the 2013-14 season, the San Diego State swimming and diving team questioned what kind of success they would see. After finishing the regular season undefeated and going into the Mountain West Championships in just a few weeks, most of those questions have been answered.
[quote]"I think everyone is very confident going in," senior captain Mikaela Macklin said. "In the beginning the coaches were kind of nervous because we had such a small team, which is rare for us because we've always had a huge team."[/quote]
Last year, the Aztecs relied on their depth to secure the Mountain West Championships. This year, head coach Mike Shrader pins much of the team's success on the senior class and all of its leadership, he said.
"All three of those girls are very valuable to the team and they've really helped us a lot in the water, as well as out of the water," Shrader said. "You can't really replace that."
While the team is losing three senior swimmers this year, Macklin said she isn't worried about losing any of that leadership or talent in the coming years, highlighting the team's sophomore class for all of the hard work they put into maintaining and creating team traditions.
[quote]"The sophomore class is amazing," Macklin said. "They always want to do everything together; they always want to have team movie nights. That's something that stems out of their love for the sport and for each other."[/quote]
The sophomore class, comprised of 10 swimmers and divers, is the largest class this current roster has. The freshmen boast the second highest amount, with seven swimmers and divers.
Senior swimmer Jordan Hanna is also proud of the younger swimmers this year, citing them as a big reason for the team's undefeated season.
"I'm proud of us as a group, training, racing and being there for each other," Hanna said. "It's awesome finishing a senior year undefeated; it doesn't happen every year."
While Macklin applauds the sophomore class for its leadership, she said the team relied on its freshmen a lot this year. Macklin said she couldn't be more proud of how they performed under such great pressure.
"They're really strong-minded for freshmen," Macklin said. "My freshman year I was terrified. I freaked out my first day at conference."
Among the reliable freshman swimmers is Frida Berggren, the quietly competitive girl from Sweden. After finishing her first regular season as an Aztec, Berggren has already noticed and adjusted to some of the competitive differences between swimming in Vastora and San Diego, she said. Honored as the Mountain West Women's Swimmer of the Week from Jan. 5-11, Berggren only has a few things on her mind heading into the Mountain West Championships.
[quote]"I'm just going to go in there, try to swim fast and have fun," she said.[/quote]
Finishing an undefeated season, one that included a close victory against rival Boise State, may leave a team too confident heading into the Mountain West Championships meet, but not the Aztecs, Shrader said. Even with all of the team's success, the swimmers are always looking to improve, he said.
"I just really love this time of year, where you've worked hard, and now in the next couple of weeks we're fine tuning, getting our starts and turns better, our techniques better, our speed better," Shrader said.
The Aztecs will look to defend their 2012-13 championship and secure their third Mountain West championship in four years when diving into the pool at the Palo Alto Aquatic Center in San Antonio.
 Photo by Kelly Smiley, Staff Photographer