Home away form home: Finding diversity at the student union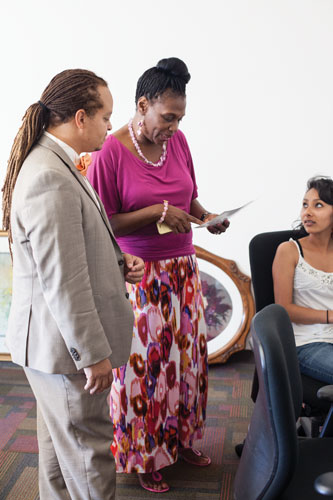 Throughout the next couple weeks, thousands of visitors, students, faculty and staff will walk through the new Conrad Prebys Aztec Student Union and not only notice the mission-styled architecture and the pleasant aromas coming from the new restaurants, but also the range of diverse students who call San Diego State home.
SDSU has received national honors for being one of the most diverse universities in the country and the student union will further help foster diversity on campus.
Gender, religion, race, disability, sexual orientation, nationality and veteran status were all taken into consideration when developing the new student union, Chief Diversity Officer Aaron Bruce said.
"I met with a lot of different committees and planning groups to talk about how to best serve the campus and the campus community," Bruce said. "So everybody, like commuter students, was thought about as well as disability access as part of the new building."
As a result, the student union has plenty of space—206,000 square feet to be exact—to meet the needs of 34,000 students and more than 300 different student-run organizations.
Inside the student union, there are 13 meeting rooms of various sizes and a 300 fixed-seat multipurpose theatre. There are outdoor program areas outside the union, and inside the Center for Leadership & Community Service there are student organization offices.
For Queer Student Union President Thomas Negron Jr. it was only a couple a months ago that his apartment served as his club's office and storage space. But now, with shared office space within the Center for Leadership & Community Service, his club has a permanent home on campus and therefore another area for his members to feel welcomed.
"I think truly it's another area for the members of our club because they often feel like there are no spaces for them," Negron Jr. said. "So this is another space for them and it's really exciting for them to have access to a new space inside the student union."
When visitors walk into the Center for Leadership & Community Service, they will see a large open layout filled with decorated student organization offices and cubicles all within close proximity to one another. Having to share a floor with other student clubs has many advantages, Negron Jr. said.
"Last semester, I wasn't constantly running into other organizations and now we are forced to interact with each other, which is a positive thing," Negron Jr. said. "One of the reasons we asked to be in this space is because we wanted to bring that diversity to the student union and I'm starting to see these organizations moving in. That's going to be a huge benefit for us to be working together and working around each other and close by."
Negron Jr. is not the only student organization president who is excited to utilize all the resources the student union has to offer.
Association of Chicana Activists President Erika Perez said her club plans on using the space for meetings, conferences, storage and events.
"There is really a lot that this new building offers though, for everyone in general," Perez said.
From the Aztec Recreation Center Express to Aztec Lanes and the numerous lounges that provide wireless Internet access, this building was designed with all students in mind.
"It's definitely a place to bring all kinds of students together," Bruce said. "It will become an important gem on our campus for us to celebrate our commitment to sustainability as well as a pathway or entrance into the campus."
The student union will not only house student organization offices and the Center for Leadership & Community Service, but also a Commuter Student Resource Area and the Center for Intercultural Relations. Moreover, it will help house diversity and spread awareness on the SDSU campus, Bruce said.
"I think most importantly it's the diversity of the programming that will go on in the new student union and how it engages all our students, not just students who are historically underrepresented," Bruce said. "But our student body as a whole gets to learn about the great diversity of our campus, as well as the world we live in."
Photo by Monica Linzmeier, photo editor