Leadership starts where?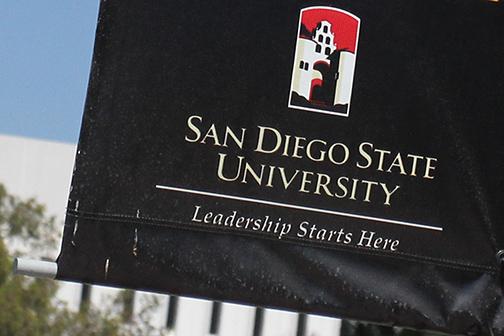 Leadership Starts Here. That's San Diego State's prized motto.
In theory, it's true. SDSU is a leader in academics and it offers many resources for students to get involved so they can make the most out of their college experience. Groups for campus involvement and leadership include Greek Life, clubs, Associated Students, student ambassadors and religious organizations.
[quote]However with 27,823 undergraduates at SDSU, it seems like a very small percentage of those students are taking advantage of their college experience by getting involved.[/quote]
In the recent A.S. elections, 9.9 percent of the student body turned out to cast their votes. A staggering 10 candidates ran unopposed, including all of the students running for the executive vice president positions. This begs the question: leadership starts where? I commend all the candidates in the election and all the people who came out to vote, but a 9.9 percent turnout is disappointing—especially  because it is significantly less than last year. Why don't students care enough to let their voices be heard? Or have enough passion to run for a position themselves?
The Student Life and Leadership records show 1,500 registered student leaders from various organizations on campus. So how are the other 26,323 undergraduates holding up our school's motto of leadership?
I've heard all the classic excuses from my friends who choose to keep their campus involvement to a minimum. They don't have time. They're too stressed with school. They don't think there's a group on campus for them—the list goes on and on. Most of the time I just hear excuses, not valid reasons.
"Research suggests that students who are involved on campus tend to have better grades, retention and graduation rates and have a more enjoyable college experience overall," according to the University of Michigan website.
It's good to have more than just school going on in your life. Being busy doesn't have to be stressful—it can be the perfect opportunity to improve time management skills. Being focused on your major and your future is great, and there are so many skills that employers are looking for that being part of an organization can teach you.
Personally, I'm one of those students determined to make the most out of my time on this campus. I'm involved with several different organizations both related to my major and not, and I currently hold a leadership position.
It's therefore difficult for me to understand the people who come to class and then go straight home. [quote]There's so much more to SDSU than lectures and labs and I wish more Aztecs could see that.[/quote]
There are more than 300 student organizations to get involved with. With that many different outlets to become involved with, it's more than likely that at least one group will interest the various individuals searching for their niche on campus.
If you are looking to make a change and want to make the most of your college experience, the best place to start is online. The SLL website provides a list of every single recognized student organization, a description of the group and contact information. Another alternative is to go into the SLL office and meet with someone who can undoubtedly help you find an organization that fits your needs.
College is about more than just learning in the classroom, it's about growing as a person. Organizations are the perfect support systems to help students grow into the people they wish to become. I highly encourage all students to take steps toward making the most out of their time on campus, and being involved is the perfect way to accomplish that.
Photo by Monica Linzmeier