Put Chipotle on meal plan or replace it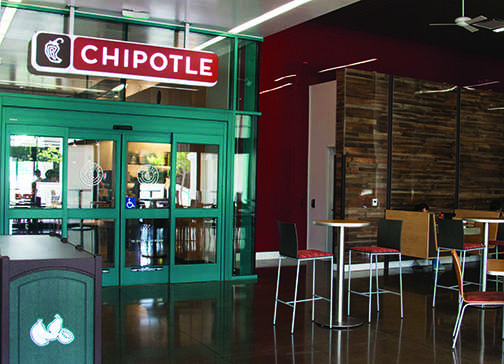 One of the biggest upsets that current San Diego State freshmen have had to deal with this year is the fact that Chipotle is not on meal plan. Freshman Ryan Peterson's reaction perfectly represents the majority of how many other freshmen feel about the subject matter.
[quote]"Great job SDSU, you moved Chipotle literally right across the street and you still don't take meal plan. That made a difference," Peterson said via Twitter.[/quote]
All freshmen living in the Residence Halls at SDSU have a meal plan, and unfortunately it's not by choice. Many of the fast food dining options on the meal plan get old, unfavorable and clearly unhealthy. The lack of healthy options is one of the biggest complaints among students with meal plans. According to Health Magazine, Chipotle is ranked the 6th healthiest fast food chain in the nation. If Chipotle was implemented into the meal plan, it would have helped make meal plan options much healthier and more desirable to students.
SDSU Dining Services gave Aztecs the chance to vote through surveys for which eateries they would like to be put in the Conrad Prebys Aztec Student Union. Chipotle was in high demand. While the restaurant was being built, many students with meal plans were under the impression they would be able to eat at Chipotle with meal plan funds.
"Big fat shout out to SDSU student union for having a bowling alley and a (The) Habit and Chipotle on our meal plan," freshman Katie Held stated via Twitter.
However, according to Debbie Burchianti, Aztec Shops contracts administrator, it turned out Chipotle told the Aztec Shops it wouldn't be accepting meal plans prior to opening.
This created a huge disappointment among freshmen, but what is interesting is that The Habit and Oggi's, when it finally opens, will both accept meal plans. In fact, Chipotle is the only restaurant in the new student union that doesn't accept them. Considering that freshmen eat on campus the most, it would have been more beneficial to put in a different restaurant that could accept the meal plan.
[quote]Just because students voted for Chipotle to be put on campus doesn't mean there weren't other highly favorable options that could have been just as beneficial and actually on the meal plan.[/quote]
"If Chipotle were to be on the meal plan it would allow a more sufficient amount of food for the price and would make our meal plan dollars spent more wisely," marketing freshman Madison Lieberman said. "This food chain offers more healthy alternatives other than the fast food options currently on our meal plan."
Chipotle was already near campus and didn't accept meal plans, so it makes no sense why Aztec Shops thought it would be a good idea to move it over a little and still not have it on the meal plan. If Associated Students simply left Chipotle where it originally was and put in a different eatery on campus, it would have been a more logical option for students who depend on their meal plans to eat.
The student union was built for SDSU Students, hence the word "student" in the name. The fact that Chipotle isn't even on meal plan makes it seem as if A.S. didn't even put into consideration how useless it would be to the thousands of freshman students at this school.
The Twitter account @WhatsUpSDSU, which is followed by more than 800 students, recently tweeted, "If you are disappointed that the new ‪#SDSU Chipotle doesn't accept meal plan let ‪@SDSUDining know. They can change it. ‪#ChipotleOnPlan." Many students are now protesting Chipotle not being on meal plan by tweeting and hashtagging #ChipotleOnPlan.
If you disagree with Chipotle not being on the meal plan, take matters into your own hands and help out your fellow Aztecs create change for SDSU.
Photo by megan Wood, staff photographer.