Aztecs welcome Rebels for final homestand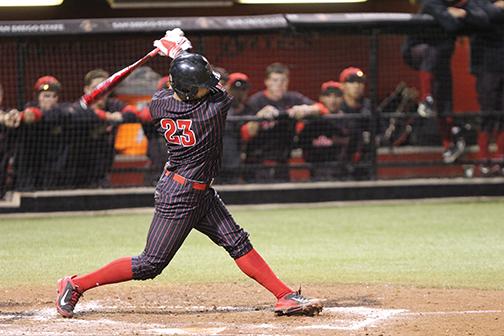 For the last time in the 2014 regular season, the San Diego State Aztecs are coming home. Holders of a 22-4 home record, the Aztecs look to cap off what's been a successful season at Tony Gwynn Stadium.
Hosting the 29-18 University of Nevada Los Angeles Rebels for a three-game series, the Aztecs look to climb up the Mountain West Conference standings by winning the series against the second-place team this weekend.
Pitching
The Aztecs are returning from a disappointing series loss to the MWC first-place University of New Mexico Lobos. Much of the team's struggles can be attributed to the Aztec pitching, which averaged just more than eight earned runs per game during the three-game series.
Even sophomore starting pitcher Bubba Derby (2.38 ERA), who earned his sixth victory of the season on Friday's game in Albuquerque, allowed four earned runs in his eight innings pitched.
Where the Aztecs have relied on Derby's dominance as a starter in 2014, the Rebels also have a strong pitcher of their own – hometown-starter junior Erick Fedde (8-2, 1.76 ERA). Through 76.2 innings pitched, Fedde has struck out 82 batters while only walking 21.
There's one thing the Aztecs do have hanging over the Rebels: relief pitching. Currently the third-ranked NCAA saves leader, junior closing pitcher Michael Cederoth could help the Aztecs move up in the standings against UNLV.
Edge: Tie
Offense
Though they lost two of three games in Albuquerque, the Aztecs were able to make some noise with their metal bats last weekend. Nobody's bat was louder than that of senior second baseman Tim Zier, whose three-hit performance on Sunday made him the all-time hits leader at SDSU.
Zier, batting .346 with 65 hits on the year, only trails sophomore third baseman Ty France in both categories.
The Rebels best batter, junior leftfielder Morgan Stotts, is hitting .340 with 49 hits and 30 RBIs through 144 at bats in 2014. They like to make some noise at the plate, too.
Between Stotts, junior outfielder Joey Swanner, sophomore centerfielder Joey Armstrong, junior catcher Erik VanMeetren, junior third baseman T.J. White, and senior first baseman Patrick Armstrong, the Rebels currently have a total of six players batting better than .300.
Edge: Rebels
Prediction
The Aztecs need to win all three games this weekend if they want to have a chance at gaining any ground in the MWC standings. Seeing as they're facing a solid team in the Rebels, who own a 10-15 record on the road, they probably will not move any closer to the top of the MWC.
Prediction: Aztecs lose two of three
Photo by Kevin Serrano, staff photographer