10 things that are worse than your finals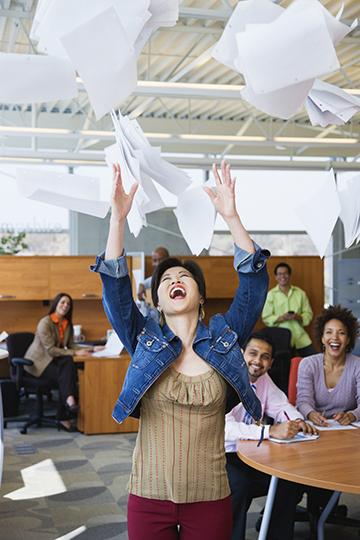 As we enter the final stage of this semester, many Aztecs are dreading the inevitable stress, exhaustion and likely mental breakdowns that come with Finals. To cheer you up a bit and keep your mind off things, here are 10 things that are worse than what you're about to go through.
1. The start of a new semester
For all of you returning students, I'd like to point out that finals mark the end of one semester, signaling the start of the next. That means the fight to get those classes you need during registration, the long lines at the bookstore trying to hunt down all those specific titles, and, of course, the frightening bills that ring up at the register.
2. Moving
This may not apply to some Aztecs, but for a large number the end of finals also means it's time to move again. As soon as you finish filling in those Scantrons, you'll be on your way to filling boxes. The moving process should be dreaded by everyone, especially since you'll be filling up those moving trucks and cleaning the nitty gritty right as San Diego is heating up for summer.
3. Missing out on education altogether
Let's not forget that there are plenty of countries around the world who can't or don't provide education to their citizens, or they restrict who has access to that education based on gender, wealth or race. So, while finals week is a bummer, at least we're here with the opportunity to learn something in the first place.
4. Student Success Fee
Along with all that money you are going to be spending for new classes, supplies, books and whatever else I didn't want to let you forget you'll also be paying the new Student Success Fee next time around.
5. The actual studying part
Taking the test in the end isn't really the part that everyone is dreading; it's those countless hours of swarming the library trying to find a seat. And the endless turning of pages that you're trying to absorb every ounce of information off of. The studying stage of finals week is where all the blood, sweat and tears really happen.
6. The post-final waiting game
Admittedly, finals do suck, but sometimes the truly torturous part is waiting to see if you passed that class. Whether you feel like you just bombed the final, or you've been struggling all semester and the final is the only thing that could make the difference, get ready to wait, my friends, because grades won't be out for awhile.
7. Getting dumped
The end of college often means friends and lovers are scattering across the country in search of jobs. For many people, that could mean separating from your one true love (of the moment). So for all of you out there without a significant other who is about abandon you in search of an adult life, feel thankful that finals is all you have to worry about right now.
8. Paying off debt
Whether you're finishing up at San Diego State or you still have a few years a head of you, there's nothing like the total amount of debt you've accumulated to make you enjoy sitting in that classroom for just a little bit longer.
9. Sending out your resume with a typo
Hopefully this hasn't happened to you, but I'm sure if it has you're aware of what it feels like to have your heart stop. Taking a class over can make up for finals, but once your screwed-up resume is out there for employers to see you've already made your first impression, and it probably wasn't very impressive.
10. Job hunting
For all of you graduating seniors, I'm sure you feel like you're about to be free, and boy, am I happy for you to get out there and spread your wings and fly. That is if you have a job lined up, of course. For any graduating seniors who still have no idea what you're going to do, I wish you luck. The reality of an awful job market and the responsibility of juggling all those real world tasks is enough to make me look forward to the few semesters I have left of my own.
Photo courtesy of Thinkstock.