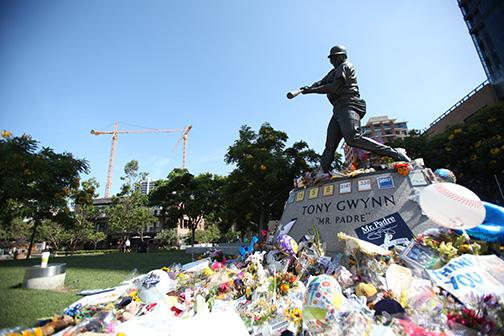 What is there to say about a man whose legacy speaks for itself?
Tony Gwynn, Mr. Padre, Hall of Famer, head coach of San Diego State's baseball team and class-act human being and Aztec legend has sadly passed away at the age of 54. Gwynn had been battling cancer of his salivary gland since 2010 and unfortunately lost his fight early morning on June 16 in Poway.
This loss was particularly hard for the city of San Diego. Losing Gwynn  almost seems unbearable.
I could go on and on with stats upon stats that validate Gwynn as one of the best hitters of all-time, and the best of his generation.  He was an eight-time batting champion, 15-time All-Star, five-time Gold Glover and was voted into the Hall of Fame in 2007. But for as amazing of a ball player Gwynn was, he will be remembered most as an inspiring human being.
As a kid growing up a San Diego Padres fan, Tony Gwynn was my favorite player. How could he not be? He was the best player on the team and had a personality that made you instantly root for him.
When I was younger, my family and I came across Gwynn at a Rubio's in Poway. I immediately declared to my mom that I needed an autograph. My mom said that it wasn't polite to come up to someone like that, but I was able to convince her to finally approach him. Mr. Gwynn, what I called him, almost seemed happy to see me. He shook my hand and beamed at me with that charismatic smile, making me think my presence made his day, just like his made mine.
That was Gwynn's personality. His ego was as small as his strikeout percentage throughout his career, and always had great admiration for his fans. He was never too busy for an autograph, never too tired to shake a hand, and never too big-time to make an appearance—Tony Gwynn was everybody's favorite player.
A lot of people can tell you where they were when they heard about the Miracle on Ice, or when Neil Armstrong landed on the moon, but if you're a Padres fan, you know the exact place you were when you heard or saw Gwynn notch his 3,000th hit. I get chills to this day thinking about how he was able to do it on his mom's birthday, and remembering Jerry's iconic "Oh, doctor!" call.
For a city that has never won a Superbowl, World Series, Stanley Cup or NBA Championship, it's surprising that a player of Gwynn's caliber decided to never leave San Diego. From his time at San Diego State, where he starred in basketball and baseball, setting the schools assist record, to the 20 years he spent with the San Diego Padres, Gwynn knew how to let his loyalty shine. He had plenty of chances to leave for money, but Gwynn's heart was always here. Just like San Diego loved him, he loved San Diego.
Even after Gwynn concluded his playing career, he opted to remain in San Diego. Instead of taking a gig in the MLB, he became the head coach of Aztec baseball in 2002. Kind of weird he would become the head coach of a team that already named its stadium after him, but hey it's Tony Gwynn, he was legendary like that.
Covering the baseball team this season I was fortunate enough to have the opportunity to interview Coach Gwynn. It was one of the most amazing experiences of my life. I was probably more nervous than someone giving a speech in Communications 103, but five minutes into the interview, Gwynn made me feel as if I was talking baseball with an old friend. He even gave me his phone number so that I could call him whenever I needed to talk.
I wanted to tell Coach Gwynn that I was with The Aztec and not ESPN, but it didn't matter – he didn't pick favorites.
This may be one of the toughest losses that this city has ever had to deal with. If you don't believe me, go to Petco Park and look at his statue. You couldn't grow that many flowers in a garden.
Gwynn was a role model for children, a devoted husband, father, and grandfather, who put family before everything. He was one of the best players of all time, but had such a love and respect for the game, becoming the first player to study countless hours of game tape.
We will remember his thousands of accolades that punched his first-ballot ticket to the Hall of Fame, but we will miss the smile, the booming laugh  and irreplaceable presence.
Rest in paradise Tony, us Aztecs will miss you dearly.