Behind the music: Marching Aztecs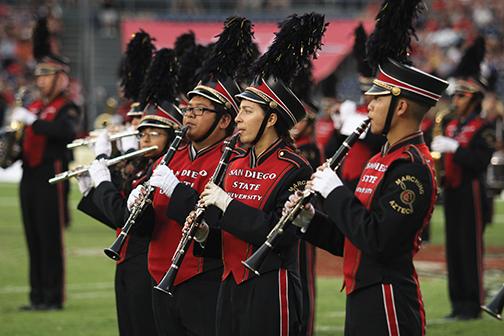 San Diego State Director of Athletic Bands Bryan Ransom didn't have to go far to find his dream job.
"I have the best job in the world," Ransom said. "I graduated from here."
Since 1988, Ransom leads his alma mater's Marching Aztecs.
While fans enjoy the band's work during each home football game, they might not think about the preparation required.
"Prior to (the fall semester), we do a week-long camp that runs from 8 a.m. to 5 p.m.," Ransom said. "Then we have just three rehearsals after that."
That's little rehearsal time for 250 Marching Aztecs—some of whom can't attend the camp due to being out-of-state—so Ransom modifies the first performance.
"We always do a complete pre-game, but we don't do a full halftime show," Ransom said.
"It's too difficult to learn a marching drill for the first game so we just do a 'park and blow,'" he continued.
Ransom says a "park and blow" happens when the band plays in a stationary formation, relying on the dance and flag units to provide the visual spectacle.
After that chaotic first week ends, it's full speed ahead and the band begins mastering the songs and drills it must know.
About the Marching Aztecs
Three things San Diegans might not know about the Marching Aztecs:
It's the only collegiate-level marching band in San Diego.
Non-SDSU students may participate, but each must be enrolled in SDSU's marching band class.
No participant receives a scholarship, but he or she does receive a stipend.
The stipend is crucial for luring band-inclined students into the Marching Aztecs' varied commitments, Ransom said.
"If you can't pay a scholarship, at least pay a stipend," Ransom said. "It's for all the service (the band) does for the university and the community."
That service includes at least 30 annual concerts at both regional schools and community events during the football season, Ransom said.
Each year's stipend varies due to fund availability and band size. In previous years, the stipend paid $200 to $300, according to the School of Music and Dance's Marching Aztec website.
Community, Chargers and the Super Bowl
Serving San Diego's community is as interwoven into Ransom's life as honing his student's musical abilities. In his side gig, he's the San Diego Chargers' on-field event coordinator, ensuring the performers are where they need to be ,when they need to be there.
"I think I'm good with the Chargers because I'm good at preparing and providing the right amount of information ahead of time," Ransom said. "It's all people moving."
Ransom parlays his Chargers job with booking the Marching Aztecs for a Chargers game each year. This year, the band plays on Oct. 5 when the Chargers host the New York Jets.
And then there's Ransom's other job: the Super Bowl.
"This will be my 14th overall Super Bowl," Ransom said. "I just happened to be in my office one night when a guy working for Radio City Productions said he needed some band-minded people."
For the Super Bowl, he supervises approximately 400 workers as they load in, set up and remove the on-field stages used during the game's entertainment segments.
Although he's seen the bright lights of the Super Bowl, SDSU remains Ransom's passion.
"I'm an Aztec for life," Ransom said. "I'll be here until I shrivel up and they sweep me away."