New garden springs up near SDSU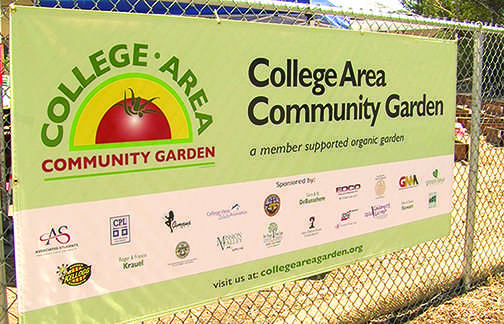 by Quinn Owen , Senior Staff Writer
September 15, 2014
Community members of all ages from the San Diego State area gathered for the open house of the College Area Community Garden this weekend.
This member-supported organic garden allows anyone to rent and maintain a raised soil plot. Gardeners can grow many types of plants including fruits and vegetables.
Volunteers have spent nearly two-and-a-half years clearing the area of rocks and debris.  The 84 garden plots are located on three quarters of an acre stretch of land behind the SDSU Children's Center.
According to College Area Garden President Henry Bertram, SDSU contributed a sizable grant of $10,000 to develop the space.
Thanks to collaboration between the university and the garden, volunteers are excited about the research opportunities the new space will provide.
Robin Judd, the director of the Children's Center, has been with the community garden from the beginning.
"The research that's going to happen here will be phenomenal," Judd said. "So many different people are playing a part in it. It's very exciting to see the collaboration and how far we've come."
SDSU Associated Students President Jonathan Cole attended the open house. He said the garden provides a great outlet for students to get involved with the community.
"When we talk about shared governance and collaboration, it's not just at the university level, we really need to work hand in hand with our community members," Cole said.
Cole mentioned the Green Gloves Sustainability Commission as another way students can play a role in the community through the commission's environmental conservation projects.
While the main parts of the garden are complete, Bertram said there are many more additions in the pipeline that will require funding.
"We have probably 15 projects that are unfunded right now," Bertram said.
But he hopes more funding from sponsors such as San Diego Gas and Electric, Kellogg Garden products and SDSU Associated Students will make those additional projects a reality.
"We're looking forward to a long partnership with SDSU and the College Area community," he said.
Renting the raised garden plots cost only $10 a month for SDSU students and can be split between several people. Plot sizes include 4-foot by 4-foot squares and 4-foot by 8-foot sections.
See video of the event here.