Grad program serves field professionals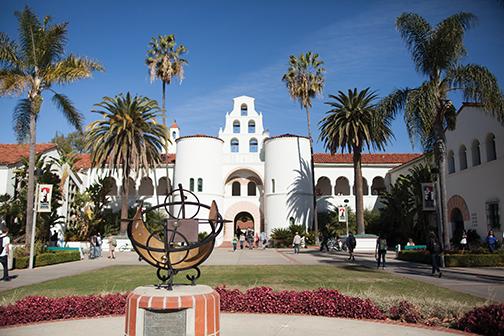 The Robert Payne School of Hospitality and Tourism Management's master's program at San Diego State recently admitted its third cohort since the program's inauguration in 2012.
The program offers field professionals tools they can immediately apply to their careers. Creating the opportunity for students to build their leadership skills and interact with key people in the industry, the 17-month, 10-course hybrid program is known for being personalized and real-world oriented.
Unlike many other master's programs, applicants are only accepted into the program after they have had three to 35 years of experience in their field. Jeff Campbell, director of the program and former CEO of Burger King said the program looks for individuals who show evidence of being upwardly mobile in their industries and would see this degree as giving them a competitive edge.
"As opposed to a master's that prepares somebody for a Ph.D. track, this is all about taking those next couple of steps as a leader in the industry," Campbell said.
Candy Flynn, the program coordinator, said students spend a lot of time working on their own leadership style and developing into a better leader than when they started. In addition to participating in team exercises and gaining feedback from mentors and professors, admitted students create personal leadership development plans and an in-company project for their business that must make a meaningful impact.
Flynn said having an undergraduate degree in hospitality and tourism is not a requirement to be admitted into the program. Individuals working in a variety of fields including healthcare, athletics and flight operations have been accepted.
"They come from all walks of life and from more segments of the industry than we ever anticipated," Flynn said. "It's really not a cookie-cutter student coming from hotels and restaurants."
Sean Brody, a graduate from the first cohort and co-founder and director of operations of the Kwepunha Retreat  said that while he found the program curriculum valuable, the connections he made has made all the difference for growth in his industry.
"The most important thing to me was the network I created through professors that have a vetted interest in my project, and to have San Diego State have a vetted interest in my project for eternity," Brody said. "The better our project becomes, the more successful we are and the more help we can create for the community."
Since its start in Aug. 2012, the program has admitted students between the ages of 25 and 57. In order to keep the program personalized, no more than 24 individuals are accepted at one time.
"Once they commit to us, they just bought into a whole network of friends, a whole network of relationships and that doesn't end when they graduate," Campbell said.