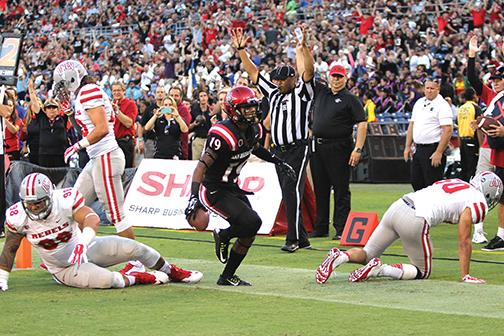 The San Diego State Aztecs football team opened up conference play on Saturday against the University of Nevada, Las Vegas Rebels.
Thankfully the team also opened up a can of you-know-what on the Rebels in a 17-point win, largely thanks to a stellar rushing performance from sophomore running back Donnel Pumphrey.
Pumphrey, a Las Vegas native, ran all over the Rebels for four quarters, decimating UNLV's front seven and making defenders miss all over the field. His first carry — SDSU's first offensive play — went 71 yards to the house after a sneaky draw play confused the Rebel defense.
"(Kaehler) was looking for the bubble route, and the receiver didn't run a bubble route, so he just ended up handing it off and fortunately it was wide-open," Pumphrey said after the game.
OK, so it was actually a broken draw play. But a touchdown is a touchdown, so we'll take it.
Pumphrey finished with 167 yards and four touchdowns in the game, averaging about 7.6 yards per carry. All four of his scores and 107 yards came in the first half. The first half.
Obviously, the Rebel defense had no answers for Pumphrey's speed and elusiveness. The Rebels couldn't have brought enough aloe vera with them on the trip to soothe all the burns left by Pumphrey.
Head coach Rocky Long wasn't surprised at Pumphrey's success on the ground.
"When I call defenses in practice he does that to us too and that kind of makes me mad," Long said after the game. "When he does it to the other team, it makes me happy."
Basically, coach Long is saying he likes when Pumphrey "Pumphs it up" against opposing defenses.
"And I'm not trying to pump him up because we don't do that in our program," Long said.
Clever, Rocky. Very clever.
It's no secret the 5-foot-9-inch 170-pound halfback is the secret weapon to this Aztec offense. Pumphrey had 22 carries in Saturday's victory and is averaging about 18 per game, which is about eight more than junior second-string running back Chase Price. Through four games, there's no doubt about it: This is Pumphrey's backfield, and the team has no intentions of hiding it.
The winning formula for the Aztecs is simple. Effectively running the ball puts less pressure on senior quarterback Quinn Kaehler, which in turn allows the offense to attack opposing defenses with a healthy balance of running and passing.
This week's game is a prime example.
As a collective unit, the offense posted 257 yards rushing and 209 through the air. It doesn't get much more balanced than that, and UNLV's defensive woes in the game show the balanced offensive attack can work.
I've only got one problem with banking on a balanced offensive game plan every week. What if the team can't establish balance before trailing by multiple scores? It happened last week against Oregon State University and that game was straight-up ugly.
"Our team is based on our offense being 50-50," Long said after the game.
Right now, that breaks down to 50 percent Pumphrey and 50 percent everybody else. Will that formula carry the Aztecs to a Mountain West Conference title? Perhaps, seeing as the rest of the conference stinks like a post-game locker room. Want proof? Boise State University lost to Air Force Academy by 14 points on Saturday. Enough said.
Regardless of how shaky a strategy it may be to feed the ball to Pumphrey 18 times per game, there's one thing you can't deny: When it works it, seriously works. He has the skills and the mindset to carry the Aztec offense on his back, and opposing teams will have no choice but to take notice and account for it.
So for now, let's revel in the fact the Rebels couldn't stop Pumphrey. Let's also hope he can continue to dominate on the ground in the games to come.