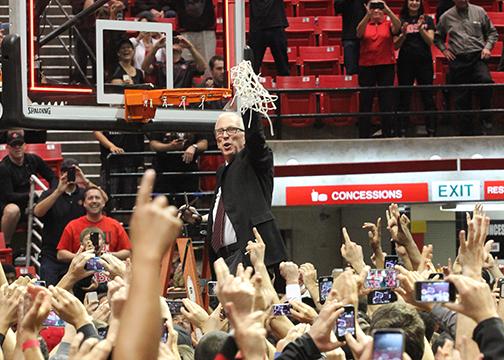 A record-setting 2010-11 season for San Diego State men's basketball made him the Mountain West Co-Coach of the Year, Naismith College Coach of the Year and NABC Coach of the Year. A group of five fabulous freshmen in 1989 made him a National Champion.
A storied career in NCAA basketball made Steve Fisher 2015's recipient for the John R. Wooden Legends of Coaching Award.
"I thank every coach who has come up here," Fisher said at the ceremony. "Now my 16th year has paid homage and tribute to John R. Wooden."
Only 16 other people have received the award, which was established in 1999. Fellow recipients include Duke University's Mike Kryzewski, University of Connecticut's Jim Calhoun and Geno Auriemma and University of Tennessee's Pat Summit.
Award winners are selected based on character, success on the court, graduation rates of student-athletes in their basketball program and coaching philosophy, according to the official site.
Fisher thanks Wooden — who passed away in 2010 as the author of NCAA men's basketball's fourth-highest winning percentage — as a big inspiration to what he's been able to accomplish on the Montezuma Mesa.
"The best thing that happened to me at San Diego State was having an opportunity to not only meet, but to get to know John Wooden and the family," Fisher said. "I think he epitomizes what we all should aspire to be as people. He didn't identify himself as a coach, but as a teacher. I think he exemplifies the qualities that a father should have, a friend should have and a teacher should have."
Fisher will be awarded at the 39th Annual John R. Wooden Award Gala in April of 2015 in Los Angeles.