Aztecs aim to declaw Wolf Pack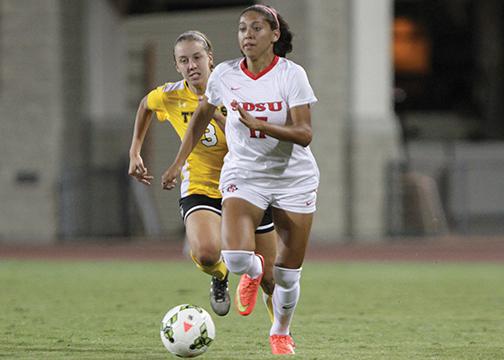 San Diego State women's soccer team (9-2-1, 4-0 MW) will be heading out of state this Friday to take on the University of Nevada, Reno (4-8-1, 1-3 MW). Unfortunately for the Wolf Pack, the Aztecs will go into the match undefeated in conference play this season and 24-1 in Conference play dating back to the 2012-13 season.
The Aztecs had to be disappointed after the scare they got in their double overtime win against Air Force Academy the Aztecs last Sunday. They clearly outplayed their opposition. Not only did they not allow the Falcons to attempt a corner kick all match, but also they outshot them 32-4, only giving up one after the first period.
The Aztecs have to be fired up going into Reno; they cannot allow Nevada's lowly record catch them off guard. As they learned from their cross-town rivals — University of San Diego — a slow start coupled with an underestimation of the opposition can lead to an upset.
Regardless of how poor of a season any team may be having, they always look forward to playing the Aztecs, head coach Mike Friesen said.
"We know every team in our conference looks to our game and circles it on their schedule," Friesen said. "It's a big game for everybody."
The Wolf Pack is also coming off of a double overtime match to a Conference opponent — except it was on the wrong end of its matchup, losing to California State University, Fresno 3-2. The loss could potentially add another spark, forcing them to come out focused for this matchup.
Nevada, although holding an overall losing record, does carry a winning record at home.
They also don't not mind being physical with their opposition as they've accrued more than 113 fouls on the season compared to the 86 committed by the Aztecs.
SDSU, however, is used to physical matchups as its opponents have racked up more than 137 fouls against them. Friesen isn't worried about the physical play though; he's got that figured out.
"We are going to have to play quickly because teams are going to be very physical with us," Friesen said.
The Aztecs will win this match if they are able to come out early and exert their dominance over the Wolf Pack with their staunch defense and superior midfield play.
The trouble will lie if Nevada is able to catch the Aztec defense by surprise in the opening half and net a few goals, forcing SDSU to play catch-up the rest of the game.
As long as the Aztecs play up to their high standards and not down to their level of competition they should win their sixth-straight match and extend their conference win streak to five on the season.