Men's tennis treks to Malibu for ITA Regionals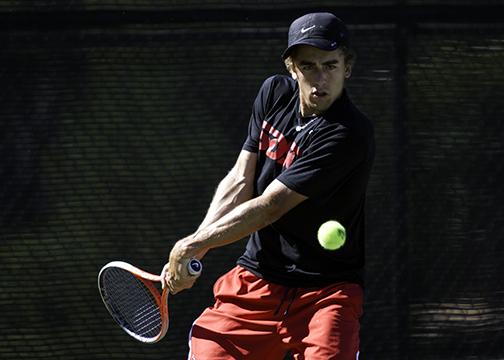 The San Diego State men's tennis team will play in its third tournament of the semester this weekend at the ITA Regional Championships in Malibu. The tournament will span Friday through Tuesday.
Assistant coach Jeff Thomsen said this weekend will be an opportunity to see how the Aztecs compare to some of the top teams in the region. Although the team recognizes they have some tough competition, Thomsen said he knows the players are capable of winning their matches.
"We know what it takes to succeed," Thomsen said. "We expect our guys to rise to the top."
The Aztecs added three new players to the roster this season: two sophomore transfers Saxon Buehning from the University of Alabama and Marko Goles-Babic from Ohio State University and freshman Santiago Cevallos from Queretaro, Mexico.
Buehning said one of the biggest challenges he's faced has been adjusting to the team dynamic.
"Getting into the rituals the players and coaches have developed is something every team with new players deals with," Buehning said. "We have a solid group of guys who can do great things this season. I believe in our capabilities."
The Aztecs hosted the SDSU Fall Invitational at Aztec Tennis Center earlier this month. Sophomore Milen Ianakiev defeated sophomore teammate Jonas Meinzer 6-3, 7-5 in the Red Flight championship. In the Black Flight, Buehning finished third against University California, San Diego's Eric Tseng, 6-1, 6-4.
While the team has been performing well, senior Thorsten Bertsch said the Aztecs still have room to grow before the regular season starts in January. Bertsch is currently ranked 122nd in the nation. He said he hopes to make it to the NCAA Tournament as a team and as an individual.
"The team could definitely improve on intensity on the court especially in practice," Bertsch said.
Last spring, the Aztecs finished 12-12 in the dual season and was the No. 3-seed in the Mountain West Tournament. Thomsen said the team is putting in a lot of work on and off the court and it's been showing.
"As long as we improve each and every day and make small steps in the right direction we'll be ahead," Thomsen said.