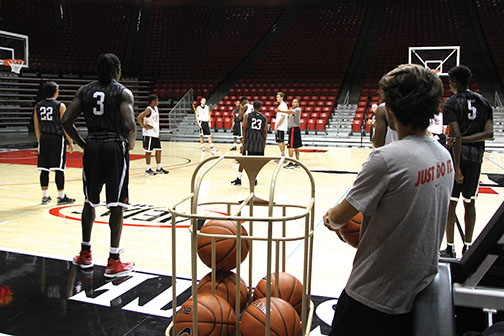 Steve Fisher sang his praises for the freshmen on San Diego State men's basketball team at Tuesday's press conference. He commended his newcomers for their on-the-court contributions, but he also made a point to discuss their off-the-court character.
"You've got to have a bit of an ego to do anything, and they've got that," Fisher said. "But they don't have an ego to the point where they think the world owes them a living … They've been really good at how they've handled themselves around campus, the community and on the basketball floor."
Fisher has only been able to see three of his freshmen recruits on the basketball floor, though. Freshmen guards Trey Kell and Kevin Zabo have practiced with the team for several weeks now and have already left a mark on their older teammates.
"Zabo and Kell have been amazing so far, and they're going to be big parts of the team," senior forward J.J. O'Brien said. "They had high ratings coming in, but their ability to play is something else."
Fisher said he's still taking it easy with freshman small forward Malik Pope, who broke his leg twice before his senior year at Elk Grove High School in Sacramento. Fisher said Pope does five-on-zero drills and very limited half-court sets during practice.
Freshman power forward Zylan Cheatham, who had surgery on a broken foot on Sept. 3, has a "floating time-table" for his return, Fisher said. In late September, Fisher told the Associated Press that Cheatham could be out until Jan. 1.
This was also the first press conference since the Aztecs landed the No. 17 spot in the USA Today Coaches Poll — the highest preseason ranking in program history.
"I love (the high expectations)," junior forward Winston Shepard said. "That's what comes when you have a program that continues to win and continues to produce great players. Every year the expectations go up. We don't run from them."
It' seems that a team can only achieve the kind of success expected of SDSU when it knows what its strengths and weaknesses are, when it's found its identity. O'Brien told reporters at SDSU's first press conference that the team still needed to find that identity. He said on Tuesday the team has definitely made strides but has a long way to go.
"It will show more when we're in games and playing, but we're hard-working, we play defense and our offense is really good this year," he said. "I think we'll have a balanced attack both inside and outside. But our identity will show itself as time goes on."
Aztec fans will get their first chance to see that balanced attack at 7 p.m. on Nov. 7 when SDSU hosts an exhibition game against Point Loma Nazarene University.