Aztecs drop regular season finale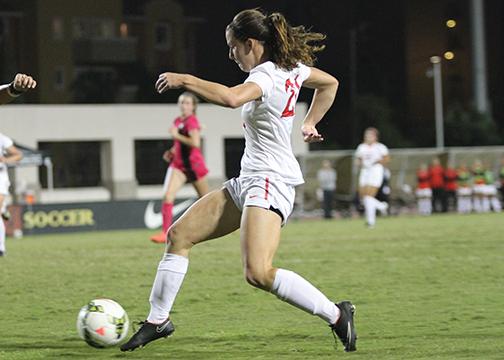 In a night meant for celebration, the University of New Mexico (9-5-2, 7-2-2 Mountain West) played the role of party crashers, as they defeated the No. 20 San Diego State (14-4-1, 9-2 MW) women's soccer team, 2-1, in the regular-season finale and Senior Night.
The loss was marked by notable absences from the Aztecs, who were down starting with injuries to senior midfielder Mariah Helmer and junior Victoria Barba Freshman forward Angela Mitchell also didn't play as well. Senior midfielder Kelsey Booth was also suffering from injury, however, head coach Mike Friesen still gave his four-year veteran the nod to play.
"We were missing a lot of good players that would have changed that game. Even Angela Mitchell, by herself, would have changed that game, but missing Mariah and Kelsey Booth being barely able to move was tough," coach Friesen said. "But credit to them they played hard, much harder than we did and it cost us."
From the opening whistle the Lobos exploited the depleted Aztec midfield and dominated possession, which allowed UNM to continuously push the ball forward and pressure the backline of SDSU.
New Mexico's effort quickly came to fruition, as the Lobos scored in the ninth minute off junior Lindsey Gucie's shot that rebounded off the post and found its way to junior Maddie Olguin, who emphatically blasted her shot into the top left corner.
SDSU came out of the half facing a 1-0 deficit, but as they have done so many times before were reenergized heading into the final 45 minutes of action. It did not take long for the Aztecs to tie the match in the 54th minute. Senior forward Haley Locker took the ball up the left sideline and with a sharp angle at the goal was able to chip her shot over the Lobos goalkeeper from seven yards out.
UNM countered the goal just six minutes later and ultimately throttled any hope for a comeback victory.
After stealing the ball on their side of the pitch, the Lobos quickly sent the ball downfield and caught the Aztecs defense on their heels. Sophomore Ruth Bruciaga centered her pass to junior Dylann O'Connor who sent her shot past SDSU junior goalkeeper Melanie Vaughn to take the decisive lead.
After the game, the five seniors Booth, Locker, Helmer, Hannah Keane and Katie Perry were honored. The team was also presented with the regular season Mountain West trophy, which clinched that honor in their victory over Colorado State University on Oct. 26.
SDSU will play host to the Mountain West tournament SDSU Sports Deck this week as the action kicks off this Tuesday, Nov. 4. The Aztecs who have already clinched the conference regular season title, and with that the No. 1 seed, have received a first round bye and will not play until the second semifinal match on Thursday, Nov. 6, at 7p.m.