Aztec shields can't defend forever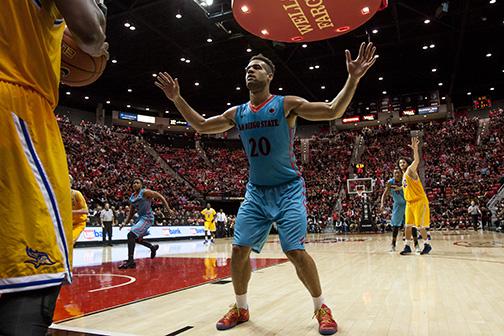 It hasn't been pretty for the Aztecs.
If you watched any of San Diego State's men's basketball's games last week, you might want to consider getting your eyes checked. Or you might also want to consider shielding those who are fragile.
It was ugly, brutal and frustrating for coaches, players and fans alike. Yet by the sheer force of arguably one of the best defenses in the Mountain West, SDSU is 3-0 to start the 2014-15 season.
But that defense won't hold up for long. At some point, a team's going to find and exploit the weaknesses of the Aztec defense and they'll still be trying to knock down wide-open jump shots.
We knew about the questions on offense coming into this year. Who's going to carry the team now that Xavier Thames is gone?
It looks like SDSU is still hung up on its "X."
Last Tuesday against the No. 25 University of Utah, the Aztecs shot an underwhelming 32.7 percent from the floor, which was actually better than Utah's 32 percent.
But never fear — SDSU's stifling defense had 13 steals and the Utes committed 18 turnovers in a game that the Aztecs needed to make 15-19 free throws in the second half just to win by four.
The offense simply didn't execute the numerous opportunities the defense created.
And then last Thursday against California State University, Bakersfield, just when you thought SDSU had an easy opponent to score lights out against, it happened again. Only this time it was even worse.
The Aztecs beat the Roadrunners 51-27. SDSU shot a wretched 24.7 percent from the field, yet held Bakersfield to just 21.4 percent. Only senior forward Dwayne Polee II scored double figures — and even he only shot 3-14 from the field, but was a perfect 6-6 from the charity stripe.
The Aztecs had 11 steals and forced 23 Roadrunner turnovers to win a game against a now 0-4 Bakersfield team that didn't even score a point until there was 7:44 left in the first half.
Do you see what I'm getting at? The defense is incredible. The offense couldn't hit a barn door with a machine gun. That much is clear.
But this defense that's carried SDSU thus far will likely be unable to hold strong once the tougher part of the nonconference schedule comes around.
Just wait until the EA Sports Maui Invitational when the Aztecs play Brigham Young University, reigniting one of the most passionate rivalries that SDSU seniors talk about with twinkles in their eyes.
BYU is shooting an insane 53.4 percent from the floor and is averaging 95.7 points per game.
Meanwhile, the Aztecs are averaging 61 points while allowing 44.7 points per game. Their field goal percentage is 35.8 percent. Let that sink in.
This game against BYU will be a titanic struggle, but the point is SDSU will need to pick it up on offense because it can't keep defending at the current frenetic pace.
The Aztecs have to deal with cross-town rivals University of San Diego before tough road games at University of Washington and University of Cincinnati.