Women's basketball hits the road for crosstown matchup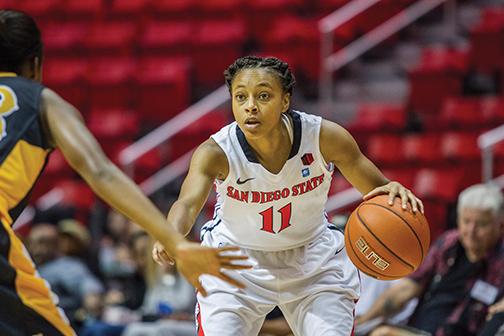 Nothing has come easy for the San Diego State women's basketball team thus far this season. The road will only become more rigorous as they visit crosstown rival University of San Diego at the Jenny Craig Pavilion.
The Toreros have hit the ground running to start the season and are 4-1 at home where they are outscoring their opponents on average by 16 points. USD also boasts a starting lineup with four offensively-inclined athletes: sophomores  Maya Hood, Katherine Hamilton, junior Malina Hood, and senior Sophia Ederaine, All four starters are averaging double digits in points this season.
Ederaine, in particular, is a nightmare for opposing coaches to game plan for. She has size standing at 6-foot-3, and the skill set to be a dominant force under the basket on both sides of the ball. Not only does she average a double-double, 15.1 points and 11.3 rebounds, but defensively is the anchor for the Toreros inside the paint. Ederaine is averaging 3.7 blocks per game and leads her team in steals with 16 on the season.
"(Ederaine) is someone that we will need to limit her touches," SDSU head coach Stacie Terry said on the Moreno Valley native. "She is very good, she can turn over either shoulder to score and she has quite a few moves. We have to keep her off the glass, she scores a lot of her points off put backs and gives them second and third opportunities."
For the Aztecs to have a chance in this matchup, they will need to remedy the glaring holes in its game that have haunted it in this early season: turnovers and rebounding. The Aztecs have turned the ball over at an alarming rate of 25.2 times per game.
Though her team has struggled to start the year, Terry is confident in knowing what the Aztecs need to work on for the upcoming matchup.
"My biggest concern is turning the ball over, we need to take care of the ball better and our rebounding," she said. "The focus in practice has been on us and putting on us on fixing our problems that have plagued us."
What the Aztecs do have in their favor that cannot be overlooked is depth.  Freshman guard McKynzie Fort and redshirt junior Erimma Amarikwa will provide a spark off the bench as they lead the team in points. Both bring a different element to the game. Fort will try to speed the tempo, attack the basket and create opportunities for her teammates. Amarikwa will look to help in the restricted zone and haul in rebounds. Both Fort and Amarikwa get to the free throw line more than anyone else on the team aside from freshman guard Cheyenne Greenhouse, who has rotated in and out of the starting lineup.
In the last six years, these teams are tied at three wins apiece. The Aztecs have not dropped back-to-back games to the Toreros, who won last year's matchup.
Tipoff is at 6 p.m. on Tuesday.