Shorten winter break to keep 'The Show' at games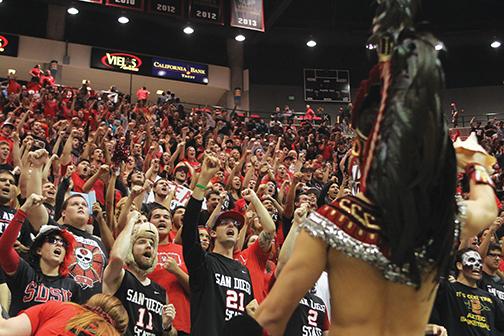 San Diego State students might have thought the conference portion of the men's basketball schedule tipped off against the Air Force Academy last Wednesday. After all, it coincided with classes resuming at SDSU. I wonder how many were surprised to learn that the Mountain West season did start against Air Force, but that particular game was way back on New Year's Eve.
While we were busy figuring out how to return unwanted presents without offending Aunt Sally, our basketball team was playing important games without a full student section to support them.
Some, including CBS Sports analyst Doug Gottlieb, have an issue with conference play happening when students are scattered throughout the nation. They want the basketball season changed. Gottlieb tweeted on Jan. 2 that the season shouldn't begin until after college football ends. That's creative thinking, but it also extends basketball until May, allowing it to eclipse every spring sport.
There's another solution: SDSU should shorten its winter break.
Here are two examples from this season that reveals the effect — or lack thereof — a student section has on a team. Let's start with a non-positive scenario. In the middle of the winter break, SDSU rolled north to play California State University, Fresno. In San Diego, social media chatter suggested an easy win for the Aztecs. Locals may have thought so too, because the Save Mart Center was empty. But, then a crazy thing happened. The Bulldogs broke out to a huge lead and, even though the Aztecs' shooters found their touch in the second half, held on for the win. Somehow, David slew Goliath without any help.
Fast forward to this past Saturday night, Colorado State University jumped to the same fast start that Fresno State did, and they also held on for victory. But there are important differences revealing that the Rams needed the help that Fresno State didn't get. Unlike in Fresno, the Aztecs soared into Colorado feeling confident. That feeling shattered as soon as they faced the intense aural assault from a packed Moby Arena. Still, the Aztecs got back on their feet and mounted two prolonged rallies. A win seemed like a probability as the Aztecs revealed themselves to be the better team. But games aren't decided on skill alone. Momentum and chance are just as important. Those pesky Rams' fans stole SDSU's momentum. Each rally wilted when those fans buttressed the shoulders of the sagging Rams.
The Aztecs rely on similar support. "The Show" isn't a powerhouse just because of creative cheers and funny signs. They change outcomes of games. Last March's game against the University of New Mexico, Albuquerque should've ended in SDSU losing, but "The Show" said no.
There's little doubt that win added money and prestige, too. Consider this: Since the Aztecs lost in the MW tournament, it's not likely they would've made the NCAA Tournament without winning the regular season title on that March evening. Even if they had, would the Aztecs been confident enough to advance to the Sweet 16? SDSU needs the crowd behind them to prop up their terrifying press, shake the opposition into self-doubt, and even put belief into the minds of Aztecs that sometimes forget how to shoot.
Success matters for an athletic program still suffering from the middle child syndrome. While also a necessary step, the football-based "Rise to 25" initiative is a plea for positive attention. After months of television cameras scanning empty seats at Qualcomm Stadium, rows full of people acting crazy at Viejas Arena provides welcome relief for a university with a mostly invisible fan base. Since athletics is an economic engine for academia, SDSU has to get over this hump and grow into a major university. That means doing whatever it takes to put — and keep — fans in the stands.