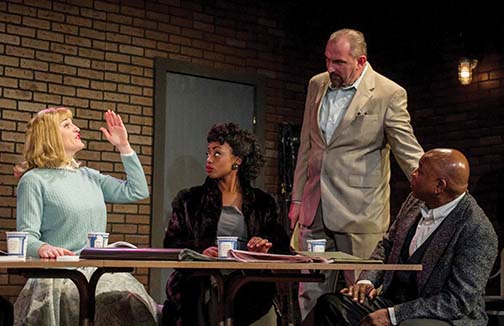 Things have yet to simmer down for actress Cashae Monya, also a recent graduate of the San Diego State Child and Family Development program. It's still business as usual for the alumna as she returns on stage once again at the Moxie Theatre for the latest production, "Trouble in Mind," playing now until Feb. 22.
Since her big break as a cast member of the high-profile, San Diego-bred production "Memphis" in 2008, Monya has acted in several shows at multiple San Diego theatres, including Cygnet Theatre and Moxie Theatre. Her recent hit shows in the past few years, such as 2013's "The Bluest Eye" and last year's "Crumbles from the Table of Joy," have been at the Moxie. Both productions were directed by Moxie's executive artistic director Delicia Turner Sonnenberg, who also serves as the director of "Trouble in Mind."
The latest Moxie show, "Trouble in Mind," is a play about a rehearsal of a Broadway play. Written in the 1950s, the story follows main character and African-American actress Wiletta Mayer (Monique Gaffney), who finally has a chance to play a lead after being reserved to only stereotypical roles. But social norms and prejudices interfere with her and the rest of the members involved while they try to prepare for the show.
"It's very interesting that this is something that was written more than 40 years ago, but these issues are still so, so relevant," Monya said. "Especially now with the Michael Brown situation, police brutality and Viola Davis calling Hollywood out for the lack of variety in roles of black women. I think it's a really powerful story and something that needs to be discussed."
Monya plays Millie Davis, one of the main actresses in the play within the story. Millie is seen compensating her low social capital as a black woman by adorning herself with expensive jewelry and luxury wear, Monya said. The character is also caught in conflict, expressing herself very vocally about her dislike about the play, her casted role as a maid, and another white actress in the cast.
"She's a lot of bark and very vocal," Monya said. "At the end of the day, she needs her job in Broadway. And so she's going to eventually play whatever role, no matter how racist or very typical to play, because she needs the money to buy the things that makes her feel she has personal worth."
Monya relates the conflicts and struggles inside "Trouble in Mind" with a movie she recently watched, "Selma", which covers similar themes and set in the same political era in America. But opposed to the outspoken personalities protesting and risking their lives on the front lines in "Selma," Monya says Millie would be the one who rather stays put in order to survive.
"As a person of color, I tell myself 'would I be the type of person who would be on the front lines, marching and protesting, or would I be the type of person like, 'you know what, I'm going to hold my tongue, hold my head down and try to survive'?" She said. "I think Millie would be more of the type that would grit her teeth in order to survive."
What the two works hold in common, though, is an effort to start an important dialog about the societal struggles still going on today through the lens of the past.
"It's an opportunity to discuss and think about how far we have come with racial divisions in America, California and San Diego," Monya said. "And then think about what's the next step."