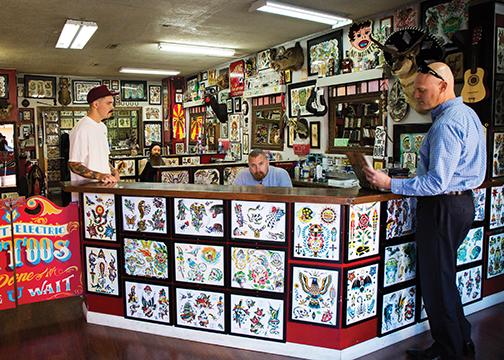 Sean Huston goes to work like everyone else. Specifically, he's manages a small shop. The only difference is instead of using a keyboard or pencil as his daily tool, Huston uses a machine that pokes the skin at 90 to 150 timers per second to etch his work into another's skin, lasting a lifetime.
Sailor's Grave Tattoo Gallery, located in Hillcrest, is where Huston works to perfect his skill as well as make ends meet.
SGTG has been tattooing for five years, but the shop itself has been in the tattoo business for more than 20 years. Right now, the shop's walls are covered in more tattoo designs — 50 percent which are custom — along with trophy animal heads wearing sunglasses, chains and hats. Even the trash cans are covered in more stickers than a 13-year-old girl's binder.
The air vibrates with the buzzing of the multiple tattoo machines and music from the '50s all the way to modern rap. Variety would be the correct label for SGTG's atmosphere.
However, you'd be visiting for the tattoos, or possibly for the occasional piercing. And while SGTG can do all styles and sizes, every artist there specializes in some form of traditional style.
"We're a staple in San Diego for our American traditional Sailor Jerry style tattoos," Huston said.
Traditional style tattoos are identified by their black, bold lines and solid colors, which contrast and pop. The style is also designed to stand the test of time by preventing the tattoos from fading and bleeding.
However, no matter what the customer wants, Huston says the staff does its best to inform and educate everyone who walks through the door.
"With an idea, any [idea], not just a bad one, we try to coach them for a tattoo that lasts the test of time," Huston said.
Even in a highly competitive market where people can easily walk out and go somewhere else, SGTG will push for the best quality tattoo for the sake of the customer and the store. Huston says with the Internet and Yelp, poor tattoos have the potential to go viral and make the entire store look bad.
It's important to remember that artists aren't photo copiers. Each artist has his or her own unique style, so six people can do the same tattoo a little differently.
"Giving the artist some freedom will definitely get the better tattoos," Huston said. "We've been doing this for years."
But a tattoo artist's work is never done. For Huston and all the artists at SGTG, doing good tattoos, traveling to other states and learning from other great artists will continue their efforts in perfecting their skills.
"We want to be the premier tattoo shop not only in San Diego, but all of California," Huston said.
SGTG has a $60 minimum for any tattoo. However, Huston says they can run deals for multiple smaller tattoos if they're done in the same sitting. It took a University of San Diego student only 10 minutes, and it only hurts as much as a cat scratching a sunburn — depending where you get it, of course.