Local artist takes talent to new level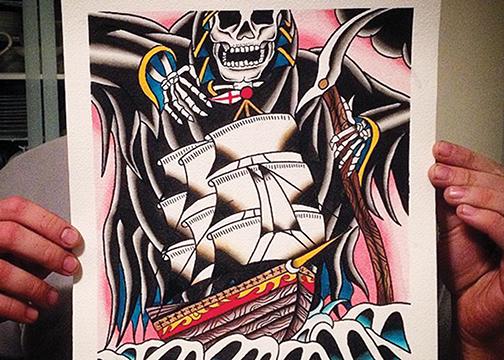 While many artists explain their emphasis as painting, sculpting or drawing, Ariel Gomez is a tattoo flash painter. Gomez primarily paints American traditional and neo-traditional with watercolor paint, India ink and calligraphy pen on paper.
Tattoo flash mixes both the world of tattoo style and art on paper … It is a tattoo on paper rather than real-life skin, and the art style has many sub genres within it, Gomez said.
Gomez's Instagram (nogoodmr.holden) feed displays a variety of different designs, ranging from skulls and roses to many musical references. Gomez draws inspiration for his paintings from his imagination, other artists, movies, tattoo artists and especially music.
"Sometimes, I'll listen to a song and get totally be inspired to draw something or someone," he said. "Most times, the drawing will be completely irrelevant to the song. Just yesterday I painted a demonic-looking nun and I got the inspiration from a KISS song called 'Lick It Up'."
Gomez has not always been an artist. He says that his experience with art was minimal growing up, limited to "Dragon Ball Z and X-Men doodles." However, he began to take his artwork to new heights beginning in 2014 after unforeseen events. In January 2014, Gomez broke one of his hands skateboarding. For that reason, he had to take a leave of absence from work and had a lot of time on his hands. The accident meant about half a year of no work, so in March, he decided he would take up drawing.
Though his will to learn drawing and painting techniques mostly came from boredom and an inability to do much else, a visit to Sailor's Grave tattoo parlor also inspired him to pick up art. He went in for a tattoo and came out with wisdom from artist Gary Koblis. Koblis spoke to Gomez about triumphs and tribulations that come with being an artist in the tattoo field and gave him one of his books full of flash for free, which inspired Gomez to pursue his passion for art.
Nowadays, Gomez continues to paint his tattoo flash and is ready to pursue higher ground in the tattoo industry. He wants to begin to find a tattoo apprenticeship to learn the trade of tattoo artistry and meet other artists passionate about tattooing and art. All the while, he wants to continue his tattoo flash paintings for as long as he is physically capable. He hopes to one day collaborate with other artists in order to create greater projects of both the art and tattoo world.