Visitors marvel at comics exhibition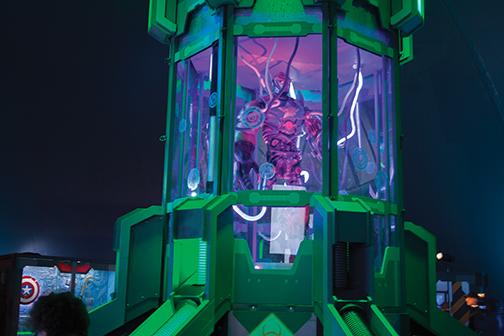 by Kate Leonard, Art Director
February 16, 2015
What's the only thing better than seeing the larger-than-life action that is the Avengers on the big screen? Getting to be a part of the action, which is exactly what you'll get if you head up to the Del Mar Fairgrounds to check out The Marvel Experience. The event boasts the world's only 360 degree 3-D theater, and boy is it awesome. The folks at Marvel did a great job catering to all crowds, with nothing too childish for adults, too adult for children, too dumb for fanboys or too geeky for your casual Marvel fan.

"

But quickly, as in any episode in the Marvel universe, you find yourself under attack by HYDRA, and your training really begins."

The $35 price tag may be deterring at first, but graduating as a fully trained S.H.I.E.L.D. agent at the end of the day makes it the cheapest tuition and most fun curriculum you'll ever have to pay for. The beginning of the two-hour training course starts with setting up your personalized S.H.I.E.L.D. ID badge, which grants you access to the first of the seven large domes that make up the S.H.I.E.L.D. compound. As you enter, a S.H.I.E.L.D. agent provides you with a cool souvenir wrist band. The first few rooms are a little lackluster, filled with bad jokes and terrible animation as Jennifer Walters, AKA She-Hulk, introduces you to your mission for the day. But quickly, as in any episode in the Marvel universe, you find yourself under attack by HYDRA, and your training really begins.
You walk into the next room to find a large, ominous tank holding the Super Adaptoid, one of the main enemies of today's mission. Also in this area are fun training activities with all your favorite Avengers. You can learn to fly like Iron Man, smash like the Hulk and climb walls like Spiderman. There's no better way of celebrating Spider-Man finally joining the Avengers than that. This room is also home to the only place to get food while you're in the exhibit that is if you're willing to spend $10 for popcorn or $9 for a soda can-sized beer. One more thing you'll find in this area is a measly exhibit of props and comic books. If you were looking for a grand museum of comic memorabilia, you would be better off looking elsewhere. Also, considering the movies are about 90% CG these days there probably are not many props to display in the first place.
After completing the training in these rooms you graduate to S.H.I.E.L.D. level two and receive a S.H.I.E.L.D. emblem for the wristband you received earlier, making the strange bracelet a pretty cool souvenir. Next up is the main attraction, the 3D room. In here, Red Skull, Madame Hydra and M.O.D.O.K., who have released the Super Adaptoid, attack you — it's game time. After a safety briefing from your friendly neighborhood Spider-Man it's time to put all your training to work in the climax of your journey.
Now without spoiling the action too much, the final battle takes place in another 360-degree dome, this time with moving seats and other interactive elements similar to Honey I Shrunk the Audience, or whatever they're calling it now, at Disneyland.
The battle's over, and your journey concludes in a now to be expected overpriced gift shop, where you can purchase artwork, T-shirts, a smorgasbord of Marvel memorabilia or a printed version of your ID badge.
Overall, The Marvel Experience is a great way for kids of all ages to wet their palates while waiting for the next Avengers flick this summer. The whole event seems very well orchestrated and the staff seems to be having a ton of fun playing their parts. While it may be hard to avoid spending a ton of money during your visit, it's still cheaper than a trip to Sea World or Disneyland, although it would be a perfect way to bring Disney's acquisition into the park after The Marvel Experience completes it's tour.