Baseball off to 7-1 start after series with Riverside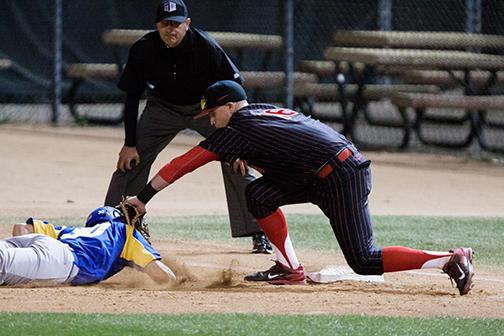 San Diego State's baseball team won its series against University of California, Riverside this weekend, winning three out of four games.
The team is off to a 7-1 start this season, but head coach Mark Martinez does not want to get overwhelmed with the success this early in the season.
"It's a nice start, but we don't want to get ahead of ourselves," Martinez said. "We have a long way to go and we have some kinks that we still need to work out. We had a couple missed signs and base-running errors over the weekend; those are some things that we are going to need to work on."
The Aztecs took the first game of the series by the score of 6-2 — a game highlighted by freshman infielder Brody Westmoreland, who hit a home run on his first collegiate swing. Despite his success in Thursday's game, Martinez said they're going to take things slow with Westmoreland.
"(Westmoreland) is going to be a designated hitter against lefties for the time being, but we're going to expand his role as the season progresses," Martinez said. "We want to put him in situations where he is going to succeed; he's showing that hard work pays off."
Then on Friday night the team suffered its first loss of the season due to a pinch-hit solo home run in the top of the ninth from UCR freshman outfielder Jordan Abernathy.
"Bubba (Derby) didn't have his best stuff that night but he battled hard," Martinez said. "He wasn't able to locate his slider as well so he had to rely more on his fastball. It was a close game where both teams battled hard and that was a big-time home run from Riverside."
That would not deter the Aztecs, though, as they put together a late rally to win 7-6 on Saturday and then capped of the series with a 12-6 win on Sunday.
SDSU has set a precedent for success after the last two seasons, making two straight NCAA Regional tournaments and winning 42 games last season.
Guys like junior third baseman Ty France, senior first baseman Ryan Muno and junior catcher Seby Zavala have played an integral role in making a 7-1 start somewhat of a norm for a team that had its struggles in previous years.
"These guys have shown what it takes to succeed," Martinez said. "It wasn't like this when they came here, they laid down the blueprint for future generations. They come to the field and always work hard, and they always want more."
Another reason the Aztecs have been so successful early on in the season has been a constant weekend pitching staff that includes junior right hander Bubba Derby on Friday night, sophomore left hander Brett Seeburger on Saturdays and junior right hander Mark Seyler on Sundays.
Along with that, the emergence of sophomore right hander C.J. Saylor (four saves) as the team's closer has been crucial.
"He's earned that role, we feel like we can trust him in those big time situations," Martinez said.
Now the team will play what Martinez considers a "very tough" game against University of San Diego on Tuesday night at Tony Gwynn Stadium and will then welcome San Jose State University this weekend for its first taste of Mountain West action.