Bar bridges "quality and cost" gap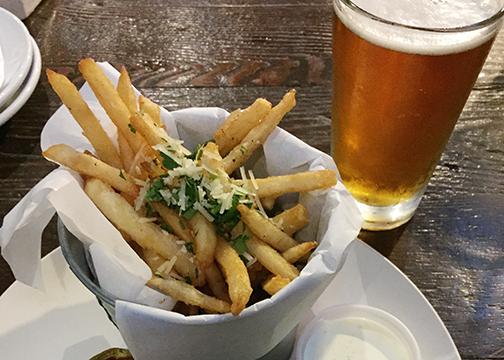 Living in College Area, good, quality food isn't necessarily spilling over in abundance. Options are often limited to burgers, burritos or a burger burrito — not that anyone is complaining. But there does comes a time when restaurant-quality food isn't the worst thing in the world; in fact, it's a bit underrated.
If this sounds like your daily hassle, a neighborhood bar has taken mouthwatering food and drinks to a whole new level. Bridges Bar & Grill is one of the nicer bars on El Cajon Boulevard that still manages not to break the bank. From the initial walkthrough, guests are always met with familiar faces and a friendly staff.
With outdoor and indoor sitting accommodations, Bridges is guaranteed to be crowded on a weekend — although tables are even filled on the quietest of nights as well. Adding to its homey feel, the staff know most by first-name basis and love to strike up a conversation.
Although I've visited Bridges quite a few times, and tried way too many of its burgers through the convenience of OrderUp, this visit was unique on its own because I tried two new dishes. Instead of instinctively darting for my regular burger, which is nothing short of memorable, I opted out for the buffalo chicken wrap and fried fish tacos instead — the spinach tortilla wrap was enough to ease my calorie guilt. Given its more than generous portion size, the two dishes were more than enough to share between two hungry friends.
Pauses between bites are met with non-mainstream music, which is always appreciated, and popular sporting games on the handful of flat-screens planted on the walls.
Basketball fans sip on beers while scoping out the score, friends catch up in the oversized booths and if you're me, your laptop is plugged in to the conveniently-placed outlets to prepare for homework — a nice balance of work and play.
Just as I'm convinced my chicken wrap can't get any better, Stephen Garza, bar manager, brings over the California Cream'in: a beer equivalent to a cream soda. It might not sound like an appetizing pair, but it was the perfect duo.
As if you needed more reason to go a college bar that doesn't serve food named after a local frat, Bridges offers daily specials. From "Wing Wednesdays" to "Thirst-Trap Thursdays," college students are bound to get the most out of their dollars.
When your body starts rejecting all those $5 quesadillas and priceless ramen, Bridges is the perfect place to go for food and drinks that easily equate to the overpriced nonsense served at Gaslamp bars — the service only making it that much better. From gourmet salads to flatbreads and sandwiches, the menu is bound to impress.
Now that I officially crown myself a regular, you will find me there on Sundays testing the true meaning of $10 bottomless mimosas — obviously paired with a veggie omelet because all good things in life come with balance.
Further fueling the unorthodox habits of college students, Bridges Bar & Grill is open daily until 2 a.m.