Men's golf gets sixth place in Lamkin San Diego Classic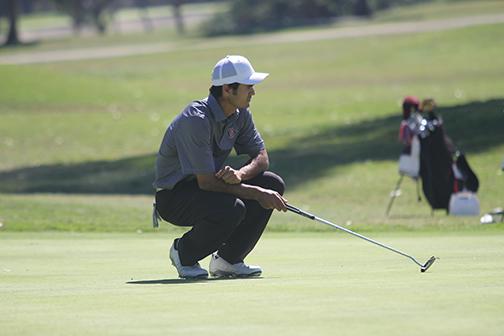 A home-course advantage can sometimes be all a team needs to dominate a golf tournament. The home team knows the course better than any other competing team, it knows which clubs to hit on every hole and it knows every break on every green.
This advantage can take major strokes off every players' scorecard on the team.
But this was not the case for the San Diego State Aztecs at their home course in Chula Vista Tuesday in the Lamkin San Diego Classic at the San Diego Country Club. The Aztecs finished sixth for the second straight tournament.
SDSU entered competition on Tuesday in fifth place as a team at even par, but the Pepperdine University surpassed the Aztecs and put SDSU into sixth place overall for the tournament.
University of Washington won the tournament at an impressive score of 10 under. University of North Carolina and University of New Mexico followed in second and third place, respectively.
Senior Xander Schauffele followed his back-to-back Mountain West Golfer of Week awards by continuing his hot streak of play with another top-10 finish, placing 10th at the San Diego Country Club with a three-round score of 216 (even par).
Schauffele wasn't the only Aztec individual to crack the top 10, which seemed to be the only bright spot of the day. Sophomore Brian Song tied Schauffele for 10th place.
Senior James Holley, sophomore Ricky DeSantis, junior Michael Koeneke, redshirt-freshman Wonje Choi and freshman Pablo Matesanz also played as individuals in Chula Vista. Holley and DeSantis finished the best of those five, tying for 18th and 23rd, respectively.
"I was disappointed in the way we performed," head coach Ryan Donovan said. "In this tournament, we just did not execute the way we know we are capable of executing.  This was our home course tournament, so we thought we could benefit from the home course advantage but we just weren't able to get it done."
The Aztecs will be back in action March 23-24 at the Oregon Duck Invitational at the Emerald Valley Golf Club in Creswell, Oregon.